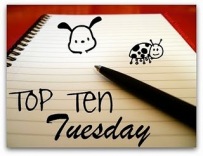 (Top Ten Tuesday is a weekly meme brought to you by The Broke and the Bookish.)
1. Shades of Grey, Jasper Fforde – I love Fforde's Thursday Next and Nursery Crimes series, so I thought I'd love this one too. Unfortunately I didn't realize it was dystopian, and of course I ended up hating it.
2. The Freedom Writers Diary, Erin Gruwell – A little disappointing. This is one of the rare instances where I liked the movie better than the book; the anonymous nature of the kids' journals in the book made it hard for me to connect with them.
3. Lucy, Laurence Gonzales – I normally shy away from horror/thriller stories because they give me nightmares, but I read Lucy because it was compared to Mary Shelley's Frankenstein. And I'm so glad I did! It was by no means or light read, but it brought a fantastic theme/subject into a modern setting and added even more great layers. Great story.
4. Behold, Here's Poison, Georgette Heyer – Discovering Heyer was a happy accident; I love her Regency novels, and was excited when I learned that she also wrote many mysteries. Behold, Here's Poison was well-written, but it lacked the spirit of her Regency novels, and just couldn't hold my interest.
5. The Last Werewolf, Glen Duncan – Although I liked the premise and the main character, in the end I just couldn't handle what felt like such gratuitous gore.
6. Murder at Monticello, Rita Mae Brown – Wasn't sure what to make of a talking cat who solves mysteries, but was pleasantly surprised. Great mystery, great characters.
7. Manning Up, Kay Hymowitz – I was really looking forward to this one because I so rarely read a gender and psychology/sociology book about men. But while the author did a good job of explaining the problem, she didn't really present any suggestions for fixing it. Plus I felt like Hymowitz was doing all her writing while thinking, "If only these women weren't so gosh-darn independent, we wouldn't have all these immature man-boys loafing around playing World of Warcraft!"
8. Jane Austen Made Me Do It, Laurel Ann Nattress – I hoped that I could overcome my general dislike of short story collections if they were Jane Austen-related. But while some of the stories were great, the majority were just kind of…blah.
9. Death Comes to Pemberley, P.D. James – Ugh. Just, ugh.
10. Murder on the Eiffel Tower, Claude Izner – The premise sounded so exciting, but the story took forever to get going, and even then it didn't feel like much was happening. It was just kind of boring.
What books did you like more or less than you thought you would?