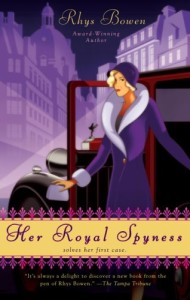 Lady Victoria Georgiana Charlotte Eugenie—known to her friends as Georgie—is 34th in line for the throne of England, and is heartily sick of royal life. Her Season didn't end with a wedding, and at 21 she finds herself living in the family drafty Scottish castle with her brother and sister-in-law; the prospect of death by boredom seems entirely plausible.
So Georgie makes her escape to London — the prospect of getting a job and the subsequent scandal it will cause among the royals seems blissful in comparison to forced marriage to a fish-lipped Romanian prince.
But London isn't quite the adventure Georgie suspects. She falls for a totally unsuitable member of the Irish peerage, has to earn money cleaning houses, and discovers a dead man in her bathtub. Someone is out to get Georgie and her brother, and it's up to Georgie to find out who and why…before it's too late.
A smashing read
Both my mother-in-law and sister-in-law are suckers for Whodunits, and author Rhys Bowen is their most recent discovery. Her Royal Spyness is the first in the series, and makes for an excellent beginning.
The book starts off as more of a comedy/satire, with naive Georgie tottling off to England with no plan, no servants, and no money. It doesn't become clear until about halfway through the book that Her Royal Spyness is going to be a mystery, but what it lacks in build-up it makes up for in pay-off. There's a perfect balance of humor and suspense, and although the ending was the tiniest bit predictable, it was nevertheless entertaining and exciting.
If you're an Anglophile or a fan of lighter mysteries, check out Her Royal Spyness.