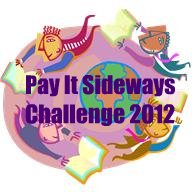 (I read this book as part of the Pay it Sideways Challenge. Join in anytime, we'd love to have you!)
Tenzing Norbu—Ten for for short—is feeling restless. A recent encounter with a .45 automatic means the final nail in the coffin that was his career as an LAPD detective, and he's in no mood to return to Tibet and his previous life as a monk.
But a short chat with an ex-cult member pings his intuition, and before he knows it he's started a career as a private detective — but based on how many people apparently want him dead, Ten's first case may actually be his last.
A nice beginning
I'm always up for a good mystery, and this one fit the bill. Ten is an interesting character whose life as a monk has oddly prepared him for life as a private detective; he really cares about the people around him, and uses his meditation skills and training to be a better detective.
There are other great characters scattered too, John D. being my favorite. The mystery is good as well — just complicated enough, with some unexpected twists and turns.
To me the best aspect of the novel is the mystical one. Ten left monastic life, but it hasn't left him. He practically ran away from Tibet to escape it, but in truth it still guides everything he does. The novel is surprisingly cerebral, and I love it.
The next in the series, The Second Rule of Ten, is due out sometime this month.
About the recommender
Popcorn Reads is run by MK, a self-labeled "bookaholic" who reviews fiction of all kinds. Not everything reviewed there is to my taste, but I appreciate her liberal quoting of the works she reads — it helps give a good sense of a novel's flow and tone.
MK enjoyed The First Rule of Ten mainly because of its main character, whom she (rightly) compares to Sherlock Holmes in his investigative style. You can check out her review here.