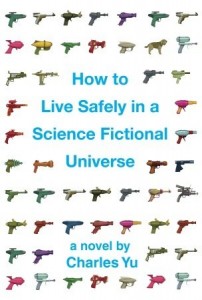 Being a time machine technician isn't as exciting as you think. Especially in Minor Universe 31, where everyone keeps trying to change the past and tearing holes in the world. But at least it's a job, so Charles isn't complaining. And at least he's got TAMMY, a computer program with low self esteem, and Ed, a dog that doesn't technically exist.
But a chance encounter with a surprising individual sets him on a new path, one that will either lead Charles to his lost-in-time father…or his own death.
Laaaaame
I didn't have high hopes for this book — the premise was intriguing, but something about it gave me the impression that it wouldn't be one of my favorites. And I was right.
Live Safely had the same issue as Shteyngart's Super Sad True Love Story, mainly that it took me far too long to make sense of the world building. Some novels do a good job of handing out details at just the right moments; I was over 50 pages into Live Safely before I could get a good idea of what was actually happening. And even then I was so distracted by loose ends and questions about the world that I missed out on enjoying the story.
Add in all the time travel, quantum space, pseudo-babble, and I came away with a bad taste in my mouth. Pretentious is a word that comes to mind.
There were some good moments, but comparing Yu's novel to the writing of Douglas Adams (of Hitchhiker's Guide fame) feels like a stretch.
Anyone else read this? What am I missing that makes this book worthy of the praise it's received?