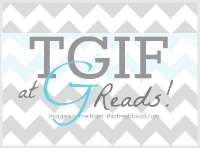 (This meme is hosted by Ginger of GReads. Click the image to head over and participate in the Q&A fun!)
Today's question is: Which books would you like to see in today's high school Literature classrooms?
This was a tough one. There's lots of books I think high schoolers should read, but they're either A.) not all necessarily for literature/English classes, or B.) are already on so many required reading lists that it's redundant to include them. But I think these three deserve to be here.
Lucy – A modernization of Mary Shelley's Frankenstein, this time revolving around genetic experimentation and the first human-ape hybrid.
Lies My Teacher Told Me – Not only an important look at history, but also the politics of history textbook publishing. Students need to learn how to think and research on their own.
The Epic of Gilgamesh – One of the world's oldest stories (the oldest version is from 1700 BC) containing some surprisingly modern themes. It's an amazing portrayal of how an ancient people decided to look at life, death, and life beyond death.
What would you add to this list?