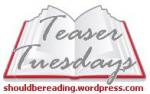 Teaser Tuesdays is a weekly event hosted by Should Be Reading. The rules are simple:
Grab your current read
Open to a random page
Share two "teaser" sentences from somewhere on that page (as well as the book's title and author)
Be careful not to include spoilers
Today's teaser is from my newest library acquisition, The Reading Promise: My Father and the Books We Shared (Alice Ozma):
It started on a train. I'm sure of it. The 3,218-night reading marathon that my father and I call The Streak started on a train to Boston, when I was in third grade…The woman across the aisle turned to us and asked why my father was reading to me on a train. We simply told her that this was what we always did — he had been reading to me every night for as long as I could remember, ever since we read Pinocchio when I was four. Being on vacation didn't make much of a difference. Why not read? Why not always read?
I happened upon this book by accident—sweet serendipity!—and knew I had to read it. The Reading Promise is the memoir of a young woman who made a pact with her father to read together every night…and they did so for eight years.
This will be a bittersweet read for me, I think. My mother read to me often as a child, and this will bring back some of those memories. It will also dredge up thoughts of a parent with whom I didn't spend much time as a kid, and warred fairly seriously with in recent years. A learning experience either way.