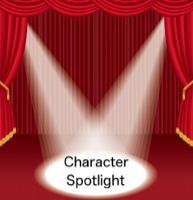 Book: The Masque of the Black Tulip (Pink Carnation #2, Lauren Willig)
Age: Late 20s
Looks: 6'3", muscular, light hair
Personality: Decidedly snarky and a playboy, but good-hearted (and hard-headed)
Miles Dorrington has made it through the first quarter of his life without getting into any major scrapes — and that's the problem. He's the best friend of Richard Selwick, also known as the Purple Gentian, also known as the right-hand man of the famed Scarlet Pimpernel, savior of the French noblesse from Madame Le Guillotine.
For someone who knows so many secrets and spies, Miles has certainly spent a lot of time behind a desk. He's also spent a fair amount of time playing nanny to Henrietta, Richard's younger sister. Even that job is tougher than his work for the War Office, seeing as every eligible man in town seems to have suddenly taken a shine to Henrietta.
Including, unfortunately, Lord Vaughn, a man who may or may not be the Black Tulip, the most dangerous French spy to ever threaten England. Miles is stuck between his excitement at finally doing some detective work and his sudden and irrational need to track Henrietta's every move.
Why I love this character
I think I like Miles so much because he's not Casanova, he's not the Scarlet Pimpernel. He's not suave or particularly sexy, and he's stubborn and thinks a bit too much with his "second brain." He's loyal, brave, and witty (heaven help me, I'm a fool for this combination).
He and Henrietta are in the same boat in many ways. Both have spent a good portion of their lives being told that they can't help — Miles because he's too conspicuous, and Henrietta because she's young and a woman.
I enjoyed seeing their relationship develop, and liked how Henrietta manages to remain relatively logical while the heretofore worldly and debonair playboy loses his mind with what Louisa May Alcott termed "lovelornity." I chuckled and gasped through their story, and may have gotten a little misty-eyed near the end.
Don't you just love a good love story?
*Just a quick note that I am out of town from 12/29 – 1/1/2012. Posts should be going up automatically, but I'll be slow on responding to comments until I get back. Thanks for your patience, and Happy New Year!*