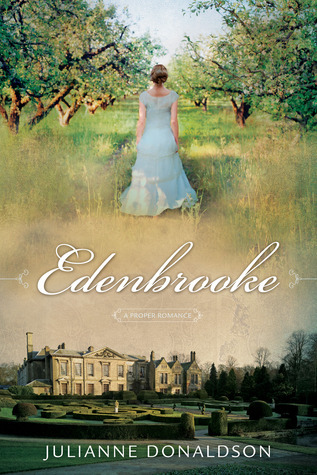 Most young women her age would love nothing more than an extended trip to Bath, but Marianne Daventry is not like most young women. She's a true country woman, unhappy in a crowded city — especially when one member of that crowd is her philandering, wealth-hungry cousin. Her father dropped her unceremoniously with relatives upon her mother's death, and she's tired of watching the door for his return.
So it is with a sigh of relief that Marianne accepts her sister Cecily's invitation to visit Edenbrooke, a large country estate belonging to the man Cecily is scheming to marry. Escape Bath and her odious cousin — what could be more perfect?
Unfortunately things go wrong almost immediately. On the road Marianne is robbed by a highwayman, and realizes too late that she's embarked on a flirtation with the same man Cecily has. Plus she keeps making a complete fool of herself, falling into ponds and getting snagged in shrubbery at the worst possible moments.
Will Marianne be able to untangle the mess in which she's found herself, or will things go disastrously awry at Edenbrooke?
A light, silly read
I picked up Julianne Donaldson's Edenbrooke at just the right time — nothing is quite so nice as a fluffy novel when life gets hard.
Marianne manages to be a lovable character, despite being somewhat stupid. The story is fun, with a little twist right at the end that surprised and delighted me.
Fans of Georgette Heyer and similar authors may find Edenbrooke a little immature and mostly forgettable. Despite the fact that both Heyer and Donaldson's novels were published in comparatively contemporary times, Edenbrooke feels like a two-dimensional cardboard cutout when compared to Heyer's works.
But who cares? The novel is fun and I enjoyed it, which is all that matters when it comes to reading. Don't pick it up expecting Jane Austen and I bet you'll enjoy it, too.