(WWW Wednesdays is a meme hosted by Should Be Reading. Click on the image to join the fun!)
To play along just answer the following three questions:
What did you recently finish reading?
What are you currently reading?
What do you think you'll read next?
Recently finished
I finally got my review for Heart-Shaped Box up. The short and sweet of it is, the book was good, but not something I'd pick up again.
Currently reading
Surprise, another Georgette Heyer book! This time it's Charity Girl. I know, I should totally be reading for Non-fiction November, but I had a busy weekend, and so am behind on reading.
Coming up next
Books for Non-fiction November, of course! I can't wait to dive into some true stories.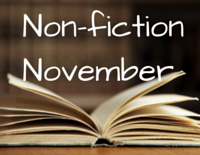 What are you reading this week?