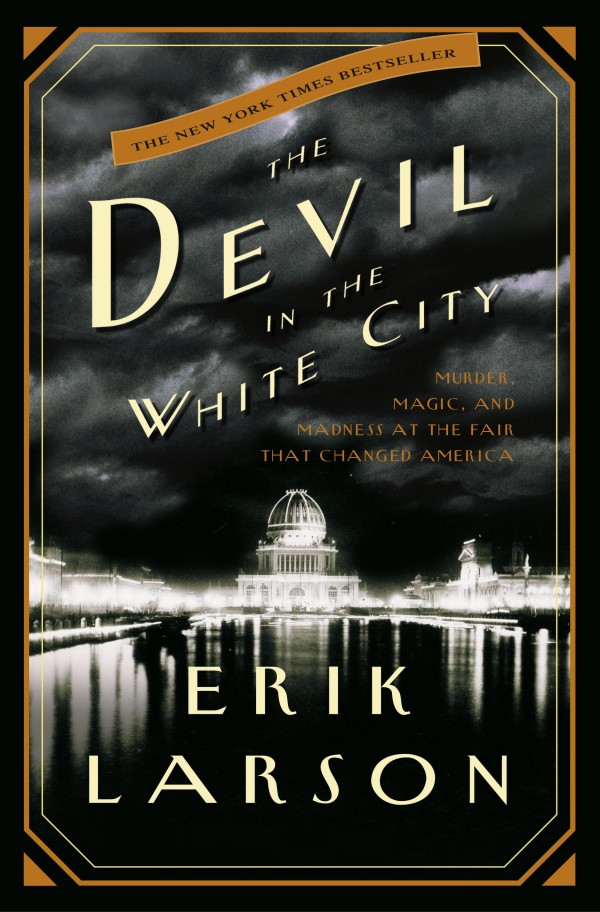 On February 24th, 1890, Chicago was chosen to host a world's fair that celebrated the 400th anniversary of Columbus' discovery of the New World.
Daniel H. Burnham — who later designed New York City's famous Flatiron Building — was chosen to put together and lead the group of designers and architects responsible for building the fair's buildings and other wonders. The Exposition Universalle in Paris, France the year before had ruffled American feathers, and Burnham was determined to build a world's fair that put other countries to shame.
Chicago's business owners were excited about the throngs of people who would soon be flocking to their city. Among them was a man known to his customers as Dr. H.H. Holmes. The handsome doctor could charm anyone, especially the young women who flocked to the city in search of jobs and excitement. He would use that charm to lure and murder at least nine people, most of them inside his booby-trapped hotel.
The Devil in the White City is the story of Daniel Burnham's efforts to take Chicago to new heights, and H.H. Holmes' efforts to drag the city into hell.
What a ride
I picked up The Devil in the White City because I'd read that it was a phenomenal look into the creep-tastic H.H. Holmes murders — the history of the Chicago World's Fair didn't seem nearly as interesting.
Well, I came for the murder, but stayed for the architecture. Honestly, I can't decide which story is better.
You might not think there's much to putting together a world's fair — that's where you'd be wrong. Burnham had a little over three years to choose a team, find a suitable location, design and construct dozens of buildings, landscape the square mile of fairgrounds, and bring exhibits and people in from all over the world. Plus he had to find some way to "out-Eiffel Eiffel," the man who just a year before had astonished the world by designing and building the Eiffel Tower, the world's tallest man-made structure.
Jammed cheek-by-jowl with that insanity is the story of H.H. Holmes, the psychopath who built a hotel with hidden rooms and a crematory and then murdered at least nine people before being arrested. Reading about how he lured women, plotted their murders, and then disposed of their bodies (after dissecting them) chilled me to the core.
Larson could have written separate books about each of the subjects; his master stroke was putting them together. What could make for a bigger juxtaposition than a group of men trying to bring Chicago into the 20th century with engineering and entertainment marvels, and a single lunatic suffocating and gassing women and children in the basement of his gloomy hotel?
Endlessly fascinating
Holmes is, of course, as interesting as he is repulsive. Much of what investigators learned about him was never presented in court, and many primary sources that discussed him are lost to time. We have only the testimony presented at his trial, as well as Holmes' own memoir (untrustworthy in itself).
The concept of psychopathy was only just being formed in the early 20th century, and contemporary investigator and general citizenry just couldn't comprehend the idea of a man killing people just because he could, and because he could get away with it.
We don't know what made Holmes the monster he was. The only information we have about his childhood comes from the man himself, and may be entirely fabricated. Was there a traumatic event that sent Holmes down his evil path, or was he simply born a psychopath? We'll never know, and that keeps me up at night.
Only slightly less interesting to me was the man who landscaped the Chicago World's Fair: Frederick Law Olmstead. He designed New York City's Central Park, and would go on to design the grounds of Biltmore, the North Carolina home of George Vanderbilt.
Olmstead was obsessed with landscape design. He dwelled on the subject like composers dwell on their compositions, and painters on their canvases.
Flowers were not to be used as an ordinary gardener would use them. Rather, every flower, shrub, and tree was to be deployed with an eye on how each would act upon the imagination. This was to be accomplished, Olmstead wrote, 'through the mingling intricately together of many forms of foliage, the alternation and complicated crossing of salient leaves and stalks of varying green tints in high lights with other leaves and stalks, behind and under them, and therefore less defined and more shaded, yet partly illuminated by light reflected from the water.'
I wish I could be as passionate about anything as Olmstead was about landscape design.
More juxtapositions everywhere. As Olmstead was trying to coax life from the muddy grounds of the world's fair, Holmes was snuffing it out mere blocks away.
The Devil in the White City reads like a novel, but is in fact a well-researched telling of the Chicago World's Fair and one of history's most famous killers. True crime fans will love it. Give it a read today.