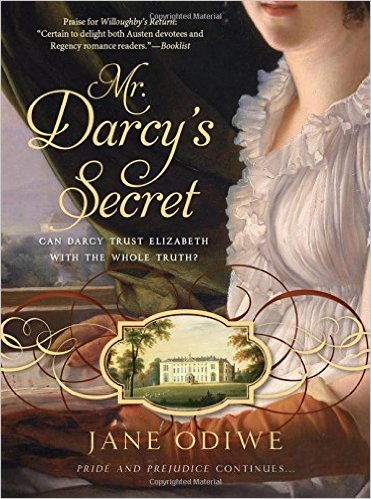 The newly-married Mrs. Elizabeth Darcy is happy — if a bit nervous — to finally be situated at Pemberley. Managing such a large home is challenging, and Elizabeth is for the help of Mr. Darcy, Georgiana, and new friends in Lambton.
While exploring the library one day, Elizabeth happens upon a secret: anonymous, passionate love letters that may be Mr. Darcy's.
Elizabeth tries to respect her husband's privacy — why should his previous romances bother her? —  but the local gossips' tongues are already wagging.
Can Elizabeth trust her husband, or will Mr. Darcy's secret be their ruin?
Sweet, sweet, brain candy
I didn't pick up Mr. Darcy's Secret expecting Pulitzer prize-winning material. And of course I didn't get it, but who cares? Summer is the perfect time for light reading, and Jane Odiwe's book fits the bill (I live in Texas; it's summer until November).
The best Pride and Prejudice "sequels" are the ones that don't mess with a good thing. Elizabeth is smart and charming; Georgiana is shy and kind; Darcy's good but a bit foreboding; and Wickham is a rogue. Odiwe sticks to these archetypes, and the novel is mostly successful.
The mystery isn't surprising or even that mysterious. Georgiana's story was more interesting to me. She's falling in love for the first time, but feels a deep duty to her brother to marry the man he has chosen for her. Seeing her grow throughout the novel was so fun.
I enjoyed Mr. Darcy's Secret because it felt faithful to Austen's characters, was funny, a bit scandalous, and had a happy ending. What's not to love?
What are you reading this summer?