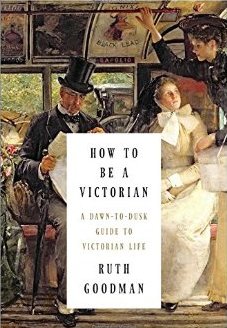 You know that moment when you think, "I should have been born in a different century!" and then you read a book about that era and it totally decimates your charming, rose-colored ideas about the time? Welcome to How to be a Victorian.
In this 440-page chunkster, author Ruth Goodman shares incredible details on clothing (male/female, child/adult), cooking, manners, work, leisure, and sex. The book begins at the start of the day, with each subsequent chapter taking us through the morning, noon hours, afternoon, and evening.
Nestled alongside these historic details — including sketches and contemporary photos of clothing and art — are Goodman's personal experiences with living in recreated Victorian conditions.
How to be a Victorian is enlightening, a little gruesome, and totally fascinating.
Complete perfection (almost)
If you love history, this book is for you. Just like The Time Traveler's Guide to Medieval England, How to be a Victorian is a detailed, intimate peek into a great period in world history.
[pullquote]Can you imagine spending half of every day in the kitchen and still suffering from malnutrition your entire life?[/pullquote]
What struck me first was the book's structure: chapter one opens at daybreak on a typical Victorian day, and each subsequent chapter takes us through getting dressed, eating, going to work, relaxing at the end of the day, and finally bedtime. Goodman hops between talking about the upper- and lower-classes, but each chapter is a contained topic; this made it easier to take in the incredible amount of information the book contains.
Most interesting to me were the sections on food and medicine, two areas in which humanity has progressed considerably in less than 200 years. Can you imagine spending half of every day in the kitchen and still suffering from malnutrition your entire life? What about giving your infant opium-based "tonics" to improve her health?
While I thought all these minute details were fantastic, I also appreciated that Goodman's writing expanded to include information on how the Industrial Revolution affected these personal spheres. Mass production of clothing meant women no longer had to make every piece of clothing by hand; new labor laws let children attend school and gave the working class unprecedented leisure time; the widespread acceptance of germ theory changed hygiene practices forever.
My only complaint is that Goodman doesn't provide much context for why she chose to live in a recreated Victorian setting, and how she was able to do so. Early in the first chapter she mentions that the longest she's gone without washing with water is four months, and at some point she just tosses in a casual, "Oh, by the way, I lived like a Victorian for a year."
It was interesting to read about all the things she did, but she could have prevented some distracted reading by adding context — something as simple as a paragraph introducing her reasons why she did it, when she did it, what gave her the idea, etc.
Overall, though, How to be a Victorian was an amazing read. No matter what kind of history buff you are, there's something in Goodman's book that's guaranteed to fascinate you.
If you could live in any other (past) century, which would you choose?