One of the many great things about Christmas is getting to spend 12 hours a day eating and reading. I've worked my way through enough turkey, dressing, and apple pie to fell an elephant, and read the following books.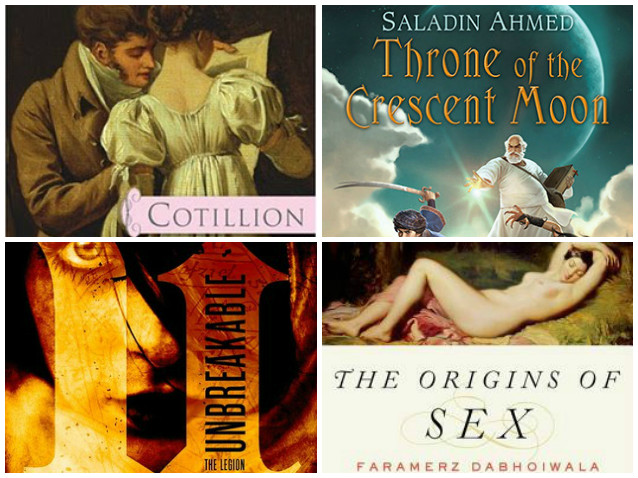 Cotillion, Georgette Heyer
My love for Georgette Heyer is nearly endless, and Cotillion served to reinforce that love even more. Kitty Charing stands to inherit a large fortune from her hypochondriac great-uncle Matthew if she marries one of her cousins. Unfortunately the right cousin — Jack — has a reputation as quite the rake, so she convinces another — Freddy — to pose as her fiance and take her to London where she can make Jack madly jealous. Between keeping up pretences with her false fiance, finding a way to get the child-like Lord Dolphinton out of his mother's clutches, and helping her friend Olivia find love, Kitty finds herself in bind after amusing bind. This novel has plenty of Heyer's signature storytelling and humor, and has a satisfying ending that may leave you a little surprised.
Throne of the Crescent Moon, Saladin Ahmed
This is the first in Ahmed's The Crescent Moon Kingdoms series, and introduces the reader to Adoulla Mahkslood, his assistant Raseed, and a young shape-shifter called Zamia. Mahkslood is one of the last true ghul hunters, sworn to protect people from ghuls and the monstrous sorcerers who create them. The book is bloody and harsh and just a little slow — I lost interest less than 100 pages in and kind of skimmed the rest. I liked some of the Middle Eastern mythology touches, but it just couldn't hold my attention.
Unbreakable, Kami Garcia
I thought Garcia's Beautiful Creatures was fairly good, so when I heard that this first in her The Legion trilogy was available at my library, I grabbed a copy. Unbreakable introduces us to Kennedy Waters, whose life is thrown into chaos when her mother is murdered and a pair of twins named Jared and Lukas inform her that she's now part of a secret society whose roots date back to ancient times. It's a typical "first in a series YA" novel — lots of world building, a love triangle, etc. — but good enough to make me want to read Unmarked, which came out late in 2014.
The Origins of Sex, Faramerz Dabhoiwala
**This mini-review/book contains adult language and discusses sex and sexuality in frank terms.**
Many people consider the 1960s the time of the first sexual revolution, but according to Dabhoiwala it actually happened at the end of the 17th century. This book dovetailed nicely with what I learned reading Sex and Punishment, which is basically that over the centuries sex has become less regulated by the church and even by the state, and more of a personal subject. The book dragged a little and took me longer to get through than other books on the same topic, but that's easily blamed by "holiday brain." It's hard to focus on such deep information when you're stupefied with cookies.
Did you get any holiday reading done?