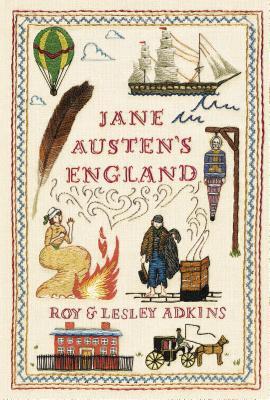 Author Jane Austen lived at a crossroads of time. The French Revolution tumbled a monarchy, the Industrial Revolution altered everything from transportation to manufacturing, Methodism and other "nonconformist" religions gained ground, and the treatment of illness and disease took large steps forward.
Jane Austen's England takes several themes present in Austen's novels — birth, marriage, religion, war, wealth and poverty, death — and explores each within the greater context of history.
Using a mix of contemporary and primary sources (including manuscripts, diaries, and personal letters), Roy and Lesley Adkins lay open the customs and culture of 18th and 19th century England, giving the reader deeper insights into the world of Jane Austen and her novels.
A few of my favorite things
I love history and Jane Austen has always been one of my favorite authors, so receiving a copy of Jane Austen's England was like Christmas morning. The authors did a fantastic job of weaving truth with Austen's fiction, improving my understanding of both.
The books' topics are ordered chronologically, starting with marriage and children and ending with medical treatment and death rituals. The lives of the wealthy and the poor are contrasted starkly, and the lack of sanitation and safety for people of all classes quickly divested me of my interest in time travel.
Miss Austen led a relatively comfortable life compared to the poorest of her fellow Englishmen, but her surviving letters indicate hardships and worries of which most contemporary readers cannot even dream.
She died of complications from an unknown chronic illness in July 1817, but left with us her beautiful novels that capture — if in a romanticized light — life for men and women of all classes in a time of great change.