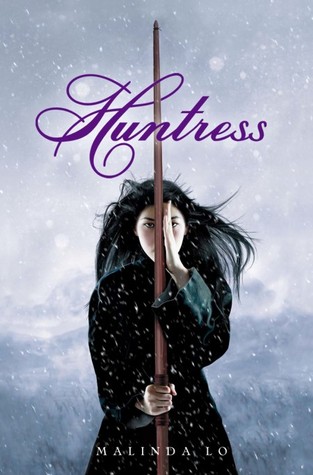 Nothing is quite right in the human kingdom. The sun has been obscured by clouds for years, and season after season crops continue failing. Menacing creatures lurk in the darkened woods, and even the wealthiest of families find themselves in danger.
Taisin is a sage-in-training, blessed and cursed with powers she has not learned to control; in contrast, Kaede is magic-free, the daughter of a well-to-do family who would rather dig in the dirt than marry for money.
When the kingdom receives its first contact in centuries from the elves — known as the Xi — it falls to the two young women to make the dangerous journey to Tanlili and discover the meaning of the elves' invitation.
Their travels are dangerous, and not just to their bodies, but their hearts as well. The two must rely on each other, and soon that reliance becomes something more. But will their journey require a greater sacrifice than either of them are willing to make?
Definitely a prequel
Huntress is the prequel to Malinda Lo's Ash, which I read way back in 2011. I loved the world and characters, and I wish that I had gotten around to finding a copy of Huntress sooner.
I enjoyed Lo's prequel, but I was so distracted trying to remember my original introduction to the world that it kept pulling me out of the novel. Lo put all of the world building details in Ash, which left Huntress feeling a little scattered.
Still pretty awesome
Few things are more appealing to me than a strong female lead, and this book has two.
Taisin and Kaede are powerful in different ways, and become more so throughout the book. They have the strength to make the journey on which they are sent, but more importantly they are able to knowingly choose difficult paths.
Huntress is a great book, another great tale by Malinda Lo. Read it, then read Ash — you will not be disappointed.