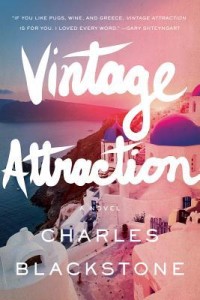 Disclosure: I received a free copy of Vintage Attraction from publisher Pegasus Books, LLC, but was not compensated for discussing/reviewing it. My thoughts on the book are my own.
Peter Hapworth is not someone you'd consider to be "happy." Frustrated by his stalled academic career and meaningless love life, he spends most of his time spinning up off-the-wall restaurant concepts (my favorite: Quiet Café, where speaking isn't allowed so diners aren't distracted from their reading) and watching whatever's on television.
But things change when he watches an episode of Vintage Attraction, a show about wine hosted by celebrity sommelier Isabelle (Izzy) Conway. An audition fails to land him a spot on her show, but he leaves with something better: a date with Izzy. Five weeks later they're married, share an apartment, and are having serious problems.
Between ex-flames, stressful jobs, and a simple lack of communication, it looks like the couple's relationship may be corked.
Excellent and infuriating
(Stick with me, this is a good thing.)
Character-based novels are my favorites, and Charles Blackstone's Vintage Attraction is a doozy. Peter and Izzy are funny and irritating by turns, flawed and real and lovely. It also flies right in the face of my old nemesis, the Myth of Happily Ever After.
At first I was kind of put off by the constant wine talk (I'm just not interested in it) — but for me it soon became a metaphor for the complexity and challenges of coupledom. Mess with grapes too much and it spoils the wine; same with relationships.
Neither of the main characters are particularly well-adjusted. Peter hates his job, but doesn't seem to be able to work up the ambition to do anything else; and Izzy is so loaded down by gratefulness to her boss (who "discovered" her and helped make her famous) that she allows him to cheat her and run her life. Not to mention the fact that she just can't seem to let go of her douchebag ex-boyfriend, Pacer.
This is what I mean by "infuriating." The two are on collision courses to professional and personal failure — they see it coming — but neither of them appears willing to make the changes that will prevent disaster. People can be so stupid.
Watching Peter and Izzy's relationship unravel, and their attempts to keep it together, are painful but true to life. They yo-yo back and forth between happy and not, often within a single conversation. This feels more real to me than all the rom-coms and sappy YA stories out there.
Bonus points to Blackstone for including a Pug (modeled after his own). The personable little fuzzball adds a needed dash of levity to a serious story, and makes me want a version (or two or three or four…) of my own.
Spoilers!
I'm still a bit on the fence about the ending. Of course I'm happy that the couple makes it, but what would have happened had Peter not texted Izzy's ex (pretending to be her) and telling him to leave her alone?
Throughout the story Izzy repeatedly falls back into the habit of hiding the fact that she's talking with Pacer; was she strong enough and interested enough in saving her relationship with Peter that could she have stopped without Peter's intervention?
Add this to your TBR
I wasn't sure I would like Vintage Attraction — I'm a pessimist, so I naturally assumed I'd despise my first galley read — but it ended up being right up my alley. Believable characters, food and travel talk, destroying that pesky Myth of Happily Ever After, and a Pug. What could be better?