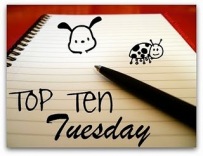 (Top Ten Tuesday is a weekly meme brought to you by The Broke and the Bookish.)
This week's list is a tricky one: my idea of an under-recognized author could be different from everyone else's. I also seem to read older authors and novels than a lot of the bloggers I follow, which tends to skew my idea of which authors people know about. With those caveats in mind, here's my list of authors who I think deserve more recognition.
You guys know these authors…right?