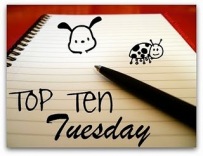 (Top Ten Tuesday is a weekly meme brought to you by The Broke and the Bookish.)
I must admit that I'm not often intimidated by a book. I don't say this to be arrogant; it's more a reflection of my not reading out of my comfort zone very often. Fortunately the bloggers I follow have tastes similar to mine, so I'm not often led astray. Here's a handful of some intimidating books from my shelves.
What Alice Forgot (Liane Moriarty) – Was really unsure about how this was going to go.
The Gift: The Poetry of Hafiz (Hafiz) – Poetry and religion, two things I'm not great with. But Hafiz is marvelous.
Chapman's Odyssey (Paul Bailey) – This one still on my unread shelf, and I'm less than certain about whether I'll enjoy it. Time shall tell.
The Letters of John and Abigail Adams – History and politics, eek.
The Count of Monte Cristo (Alexandre Dumas) – A chunkster if there ever was one, plus lots of plot twists.
Team of Rivals (Doris Kearns Goodwin) – Again, more politics. Plus a less-than-happy ending (at least for Lincoln).
The Handmaid's Tale (Margaret Atwood) – Dystopian, the bane of my existence. The book is very well done, but incredibly intimidating and difficult to read.
Your turn. What books do you find intimidating?