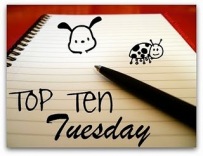 (Top Ten Tuesday is a weekly meme brought to you by The Broke and the Bookish.)
Summer is officially here, and it's so freaking hot that all I want to do is lay on my living room floor with the fan on high. Here's what I'm hoping to read to pass the time until blessed winter arrives again!
The Radleys (Matt Haig) – Vampires!
Twelfth Night (William Shakespeare) – Just have to find a copy; can you believe my local library doesn't have one?
9 Steps to Work Less and Do More (Stever Robbins) – I'm always looking for ways to be more productive.
Gulp: Adventures on the Alimentary Canal (Mary Roach) – Asked for this for my birthday — fingers crossed!
Chapman's Odyssey (Paul Bailey) – This would round out my Reading Outside the Box challenge.
The Ruins of Gorlan (John Flanagan) – I need a good fantasy novel.
I'm a Stranger Here Myself: Notes on Returning to America After Twenty Years Away (Bill Bryson) – I want to read everything this man has written, and then follow him around asking questions about when he'll write something new.
Now where'd I put that fan?