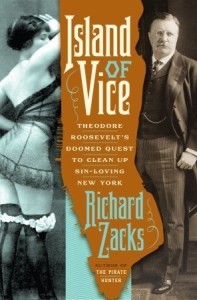 1890s New York City was a teeming mass of immigrants, a bustling manufacturing, financial, and entertainment center of the world. It was also home to hundreds of bars and gambling dens, as well as 40,000 prostitutes — and a corrupt police force that accepted bribes in exchange for keeping reformers off citizens' backs.
In 1895 a young Theodore Roosevelt was selected by newly-elected Mayor William L. Strong as the city's newest police commissioner. Roosevelt and three others were charged with clearing out and cleaning up New York.
Nicely done
As you may have guessed from the book's title—Island of Vice: Theodore Roosevelt's Doomed Quest to Clean Up Sin-Loving New York—this effort was ultimately unsuccessful. But it certainly makes for some interesting reading.
1890s New York makes 1970s New York look like an episode of "The Teletubbies." The aforementioned bars and prostitutes were a problem, of course, but an even bigger issue was the corruption within the police force. Not only were cops "shaking down" bar owners and madams, they were also lazy and incredibly violent, ignoring or injuring innocent citizens seemingly just because they knew no one could oust them from their positions.
It was amazing to read about Roosevelt's dedicated to reforming the city, and the lengths to which he went to uncover corruption and vice and shut it down. I sympathized with him, and it was hard to read about his slowly losing favor with fellow Republicans and reformers.
I enjoyed the book, and it reminded me of Sin in the Second City, even though it's set a different city and from the perspective of the opposite side: madams and others involved in the types of "sin" that Roosevelt was trying to quell.
Island of Vice is by no means a quick read (it clocks in at 365 pages), but it's informative, interesting, and occasionally funny. That said, if you have to choose between it and Sin in the Second City, go with the latter; Abbott simply tells a more colorful and entertaining story.