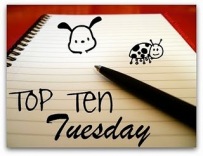 (Top Ten Tuesday is a weekly meme brought to you by The Broke and the Bookish.)
Thanks to a self-imposed book buying ban, there aren't many books that I already own but haven't gotten to yet. Believe it or not, these 14 are the only unread books I own (all links go to Goodreads).
Some of it is work-related reading, and all of it is non-fiction — typically the books that I get around to last. Hopefully I'll knock some of these out this year.
Anyone read any of these? Which should I pick up next?