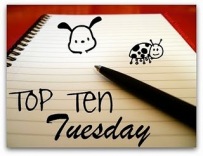 (Top Ten Tuesday is a weekly meme brought to you by The Broke and the Bookish. Want to make your own list? Clicking the image will take you to this week's post. Happy listing!)
This week is all about the list that got away. Here's your chance: if you missed a week because you were out of town, or sick, or just didn't have the time; or if you've only just started participating in Top 10 Tuesday, now's the perfect time to pick a previous topic and make your list!
After a quick perusal of the list, I've chosen a topic that was originally discussed in September 2010: Favorite Words.
1. Moon – This has been my favorite word for as long as I can remember. Not only because it conjures up images of mystery and romance, but also because I like the way it feels in my mouth when I say it. Round and smooth and perfect.
2. Mischance – I encountered this word when I read Pride and Prejudice for the first time, and I think it's a perfect way to encompass the idea of "bad luck."
3. Love – This word is great because it's so flexible. There's the love you have for your favorite cookie, the love you feel for your parents or your best friend or your lover. Blame it on the novels, or Disney, or culture, but I love love. Who doesn't?
4. Dragon – Some of the oldest stories and best creation myths revolve around dragons, and even though they have moved into the genre of fantasy, I still hold these fire-breathing creatures close to my heart.
5. Serendipitous – Serendipitous find. Serendipitous meeting. Who doesn't love a little serendipity and all the possibilities it contains?
6. Chivalry – This ancient code of ethics dictated how knights should behave, and I'm sad to see that this code isn't as popular as it used to be. I love seeing when people open doors for each other, give up their seats on a bus or tram, or otherwise do good things for strangers, just because they can. No matter what anyone says, chivalry's not dead.
7. Lugubrious – "Mournful, dismal, or gloomy, especially in an affected, exaggerated, or unrelieved manner." Whenever I hear this word I think of the Disney cartoon film "Hercules." Hades arrives at the Underworld and calls to his minions, Pain and Panic. The two clumsy demons come thumping down the stairs with Pain yelling, "Coming, your most lugubriousness!" It's a perfect characterization, and it makes me giggle.
8. Yonder – An East Texas catch-all term for anything that's not in the immediate vicinity: "Yonder on the dresser"; "In yonder in the bedroom"; "Over yonder at the neighbors' house." My grandmother uses this word constantly.
9. Scandalous – I love using this word ironically, as in, "Her skirt came to just above her knees — scandalous!"
10. Said the actress to the bishop – The precursor to the oh-so-popular "That's what she said." In the old days of theatre, the audience could always expect something salacious to occur whenever the actress character declared that she needed to confess her sins to the Bishop. Hence the original saying, as well as its current incarnation.
What are your favorite words? What previous Top 10 Tuesday did you miss that you'd love to take a crack at this week?