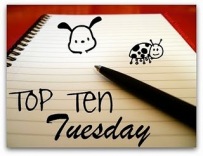 (Top Ten Tuesday is a weekly meme brought to you by The Broke and the Bookish.)
It's supposed to be up in the 80s next week here, which means that spring—well, summer—is about to take its humid, sweaty hold. Beating the heat will be the name of the game, so here's the books I'll be staying inside with over the next few months.
1. Island of Vice: Theodore Roosevelt's Doomed Quest to Clean Up Sin-Loving New York – The story of newly-elected New York police commissioner Theodore Roosevelt (yea, that Roosevelt) and his attempt to shut down the city's brothels, gambling dens, and after-hours saloons. He took on Manhattan, and—as usual—Manhattan won.
2. Born on a Blue Day – The memoirs of Autistic savant Daniel Tammet. I'm making the most of a long commute by listening to the audiobook (narrated by Simon Vance) for the Audio Book Challenge.
3. 9 Steps to Work Less and Do More – I'm always looking for ways to get more done, and I'm hoping Robbins' book gives me some new ideas and processes.
4. Gulp: Adventures on the Alimentary Canal – Mary Roach's next book is out sometime in April, and I can't wait to get my grubby paws on a copy!
5. Hospital Sketches: An Army Nurse's True Account of Her Experiences During the Civil War – I'm very familiar with Louisa May Alcott's novels, especially Little Women, but I'm interested in learning more about her personal experiences, including her time spent as Civil War nurse.
6. Meat Eater – One of my clients is a hunting ranch out in west Texas, and I've become fascinated by the hunting culture and traditions. I think Steven Rinella's book is just what I need.
7. Leaving Mundania – LARPers — another culture about which I'm interested in learning more. It's a much more multi-faceted culture than you'd think, and I'm especially glad to see that the book is written by a female. More perspectives to learn about!
8. Full Voice: The Art and Practice of Vocal Presence – I'm not sure where I heard about Barbara McAfee, and I don't quite know what to expect from this book. It feels like a cross between self-help and business and vocal coaching.
9. How to be a Woman – Feminism and psychological/sociological commentary on female-ness, wrapped in an apparently hilarious package. I'm in.
10. The Things They Carried – Tim O'Brien's classic quasi-fictional collection of short stories of Vietnam War soldiers. Short stories aren't my thing, so I'm a little nervous, but we'll see how it goes.
What books are on your spring TBR?