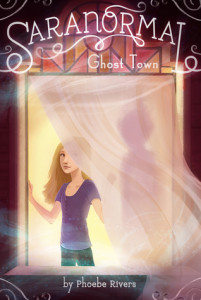 Sara Collins is not happy. Her father has unexpectedly rooted her from her sunny California home and moved across country to an old shore town in New Jersey. Sharing a dilapidated house with a psychic who may or may not be a fraud is bad enough, but Sara's main concern is the other occupants: the woman in the rocking chair, the angry man with the mustache.
These people don't bother anyone else, though, because Sara is the only one who can see them.
They're spirits, and they give Sara the creeps. Normally they ignore her as much as she tries to ignore them — but when one spirit warns her of an impending disaster, Sara must decide if trying to avert it is worth revealing her secret.
A gem of a series
This book was a "just because" gift from Best Friend last week; he braved the disaster that is my TBR list and picked up a copy for me. What a dreamboat (the man, not the book)!
Saranormal: Ghost Town is the first in a series by author Phoebe Rivers. It's firmly in the "Middle Grade" category, but don't let that classification fool you: the story—and its main character—is mature for its age, with plenty of plot to keep you guessing.
It's definitely a first book, with plenty of time taken to introduce characters, locations, and the norms of the world the author is creating. The main character is 12—and occasionally acts like it—but overall there's a maturity to the characters and story that kept it from feeling too juvenile.
Five of the series' books are published (the most recent one in December 2012), and although I wouldn't necessarily make them part of my permanent collection, I'll definitely be borrowing copies from the library.