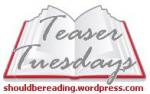 Teaser Tuesdays is a weekly event hosted by Should Be Reading. The rules are simple:
Grab your current read
Open to a random page
Share two "teaser" sentences from somewhere on that page (as well as the book's title and author)
Be careful not to include spoilers
This week's teaser is from The Seer and the Sword, by Victoria Hanley. I've never heard of the author or book, but I was searching through the "H" section at the library yesterday and happened upon this one.
"The king I serve is dead. You are not my king. And all your power wasn't enough to stop Torina. I serve her."
I have no idea what's going on, but right after this quote somebody gets stabbed. Hoping this one continues to be interesting!