I'm so excited to be a part of World Book Night 2012! Tonight will find me at a nearby outdoor mall, giving away 20 special edition copies of Barbara Kingsolver's The Poisonwood Bible. And I won't be alone; check out all the people who will be giving books away with me: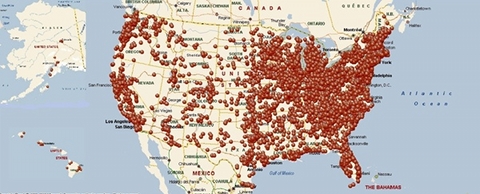 Each dot represents a town or city where there is a giver. Many, many dots are on top of each other, so some of those dots equal 25-250 givers! There are 5,800 dots in total, one for every volunteer book giver. Visit WBN on Pinterest to see more maps and photos.
About World Book Night
World Book Night is an annual celebration designed to spread the love of books and reading. Begun in the U.K. and Ireland in 2011, this year it's hopping the pond to the US, where volunteers from 5,000 cities and towns across the nation will be handing out free copies of books on April 23.
The goal of World Book Night is to seek out reluctant adult readers wherever they are, in towns and cities, in public settings or in places from nursing homes to food pantries, low income schools to mass transit, and provide them with a book.
Each World Book Night volunteer chose their favorite from a list of 30 options, and has been given 20 books to give away, free of charge.
About the book
The year is 1959 and the place is the Belgian Congo. Nathan, a Baptist preacher, has come to spread the Word in a remote village reachable only by airplane. To say that he and his family are woefully unprepared would be an understatement:
"We came from Bethlehem, Georgia, bearing Betty Crocker cake mixes into the jungle," says Leah, one of Nathan's daughters. But of course it isn't long before they discover that the tremendous humidity has rendered the mixes unusable, their clothes are unsuitable, and they've arrived in the middle of political upheaval as the Congolese seek to wrest independence from Belgium.
In addition to poisonous snakes, dangerous animals, and the hostility of the villagers to Nathan's fiery take-no-prisoners brand of Christianity, there are also rebels in the jungle and the threat of war in the air. Could things get any worse?
The first part of The Poisonwood Bible revolves around Nathan's intransigent, bullying personality and his effect on both his family and the village they have come to. As political instability grows in the Congo, so does the local witch doctor's animus toward the Prices, and both seem to converge with tragic consequences. From that point on, the family is dispersed and the novel follows each member's fortune across a span of more than 30 years. -Summary via Goodreads
About the author
Barbara Kingsolver is an American novelist, essayist, and poet. She was raised in rural Kentucky and lived briefly in Africa in her early childhood. Her most famous works include The Poisonwood Bible, the tale of a missionary family in the Congo, and Animal, Vegetable, Miracle, a non-fiction account of her family's attempts to eat locally.
Her work often focuses on topics such as social justice, biodiversity, and the interaction between humans and their communities and environments. Each of her books published since 1993 have been on The New York Times Best Seller list. Kingsolver has received numerous awards, including the UK's Orange Prize for Fiction 2010, for The Lacuna and the National Humanities Medal. She has been nominated for the PEN/Faulkner Award and the Pulitzer Prize.