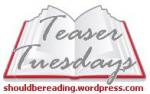 Teaser Tuesdays is a weekly event hosted by Should Be Reading. The rules are simple:
Grab your current read
Open to a random page
Share two "teaser" sentences from somewhere on that page (as well as the book's title and author)
Be careful not to include spoilers
This week's teaser comes from Zora Neale Hurston's classic novel Their Eyes Were Watching God.
'Ah sells groceries right here in dis store, Tea Cake, if you don't happen tuh know.' She tried to look cold but she was smiling in spite of herself.
I already know the general plot of Hurston's book, but if I didn't, this teaser would certainly hook me. Why is she trying to look cold? And what is it about the situation (or Tea Cake) that makes her smile? Intriguing…