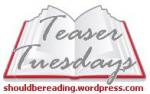 Teaser Tuesdays is a weekly event hosted by Should Be Reading. The rules are simple:
Grab your current read
Open to a random page
Share two "teaser" sentences from somewhere on that page (as well as the book's title and author)
Be careful not to include spoilers
This week I'm cracking the spine on Geraldine Brooks' Year of Wonders. The title has positive connotations, but this quote makes me not so sure:
…the number who gather each week in our church is a firm two hundred and one score worshipers. Since our places are set from long tradition, an absence is as obvious as a missing tooth. That Sunday, the growing roll of dead and ailing left many empty spaces.
I love Brooks' writing, but it can get pretty dark; and a book set during the Plague is going to be anything but cheerful. I'm a little nervous about this one, but I'm also curious about where it's going to go. That title gives me a little hope.