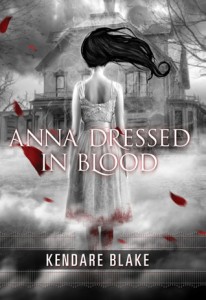 Cas Lowood has not led a normal life. He's a killer of ghosts, like his father before him. But now is father is gone, killed by a ghost he sought. Cas and his mother, a white witch, travel the world chasing legends and stories, which Cas brings to a final end with an enchanted dagger. A permanent home and friends take second place.
When Cas arrives in the city of Thunder Bay, he is confronted by the stories of Anna Dressed in Blood, a young girl who was murdered in 1958 and haunts her abandoned home wearing a white dress dripping blood.
It's supposed to be a job like any other: find the ghost, dispatch it, and move on. But teen scare tactics go horribly awry and Cas ends up at the mercy of Anna, who has slain every person to cross her home's threshold…until today.
There's something different about this ghost, and Cas vows to discover her secret. But even as he moves closer to Anna, there's something else, something pure evil, closing in on him.
Deliciously creepy
I've been itching to dive into this book since I got it, and something about the first warm day of spring made me feel like picking it up — call me morbid.
The first thing that struck me on opening the book is that the text itself is red, dark and deep. The tale is of worlds colliding: Cas' self-made bubble and the lives of the All-American teenagers he befriends, and the world of spirits, voodoo, and witchcraft with the larger world.
Anna Dressed in Blood is full of some of my favorite things: mystery, paranormal activity, magic, and characters that feel real and make me want to keep reading and learn more. Cas is great, of course, but Thomas and definitely Anna herself piqued my particular interest.
What magic is it that makes Anna so different from the typical ghost? Why does she have an almost-split personality? And what allows her to control that personality around Cas of all people?
The second in the series, Girl of Nightmares, is set to be released August 7 of this year. The first book whetted my appetite, and I'm excited for more.
Have you read Anna Dressed in Blood? Planning to continue the series?