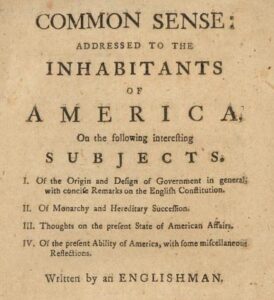 Common Sense
Thomas Paine
Non-fiction, audiobook
"Society in every state is a blessing, but government even in its best state is but a necessary evil; in its worst state an intolerable one; for when we suffer, or are exposed to the same miseries by a government, which we might expect in a country without government, our calamity is heightened by reflecting that we furnish the means by which we suffer."
Paine's pamphlet was published in 1776 as the American Colonies teetered on a precipice: remain a subject of British rule or embark on one of the grandest experiments the world had ever seen. Contemporary politicians and modern historians alike credit Common Sense with turning the tide toward independence.
This book is the 18th century equivalent of both "sick burn, bro" and "mic drop." Paine did a masterful job of eviscerating monarchy while uplifting the ideals that have become so closely associated with America: freedom entangled with a deeply-ingrained suspicion that government is kind of a scam.
Perfect for those interested in American history and want a read that feels more approachable than something like The Federalist Papers (chill out, Hamilton, we know you like writing and a stronger central government).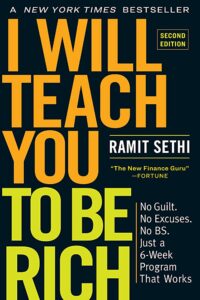 I Will Teach You to be Rich
Ramit Sethi
Non-fiction, paperback
"Conscious spending isn't about cutting your spending on everything. That approach wouldn't last two days. It is, quite simply, about choosing the things you love enough to spend extravagantly on—and then cutting costs mercilessly on the things you don't love."
Personal finance advice that discourages deprivation and obsessing over budget line items.
I've been listening to Ramit Sethi's podcast for several months now, mainly because it lets me be nosy about other people's finances without accosting my friends and co-workers. I'm interested in pretty much all money management methods out there, and Sethi's is a nice one because it focuses more on automating the little stuff so you can focus on living whatever a "rich life" means to you. I also appreciate his emphasis on just doing the thing vs. researching and dreaming forever without making a decision.
If you can get past the tone of some of his jokes (there's a fine line between excitable/smart and mean-spirited), it's well worth a read, especially the chapters on investing. I've bookmarked the section on buying a car for later use.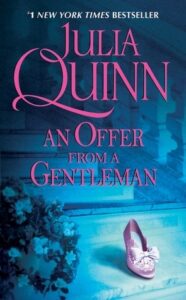 An Offer from a Gentleman
Julia Quinn
Fiction, audiobook
"She glared at him. "I'm not asking you to apologize."
"Well, that's a relief. I doubt I could find the words."
Sophie Beckett is the unrecognized illegitimate daughter of a man who died and left her penniless — it's practically impossible to believe she's managed to sneak her way into the Bridgerton family's famous masquerade ball. Her plan to remain a wallflower goes awry when she finds herself in the arms of Benedict Bridgerton, who seems as smitten with her as she is with him. Time and dreadful circumstances will keep them apart, but can they find their way to their fairy tale ending?
What can I say, sometimes you just need the third book in a romance novel series that's being turned into a Netflix show. The book took a couple minor turns I wasn't expecting, but overall it was just a fun read: two smart people sassin' each other and (spoilers!) eventually gettin' jiggy. I'm interested to see how this book is adapted for the Netflix show — there's some key differences between the on-page Benedict and his screen counterpart (played by Luke Thompson).
Read this if you enjoy the Bridgerton show or historical romance in general. Just, uh…maybe listen to the audiobook with headphones on.
Photo by Mike Kotsch on Unsplash