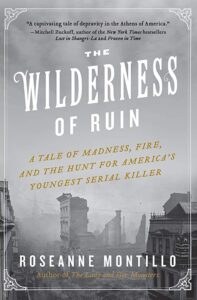 The Wilderness of Ruin: A Tale of Madness, Fire, and the Hunt for America's Youngest Serial Killer
Roseanne Montillo
Non-fiction, paperback
"Cleckley described psychopaths as 'hot headed, manipulative, irresponsible, self-centered, shallow, lacking in empathy or anxiety…also more violent, more likely to recidivate, and less likely to respond to treatment.' His description became the most influential and most quoted in regard to psychopaths throughout the century, and would have benefited those studying and dealing with Pomeroy had the information been available to them."
A child killer is on the loose in Gilded Age Boston. His unmasking as 14-year old Jesse Pomeroy reverberates through the judicial and medical systems in ways that still affect us today.
Pomeroy is a textbook example of a psychopath — before the term and its definition existed. Reading about his crimes and how those around him (lawyers, doctors, the media, etc.) could not understand his decisions and behavior was fascinating. Most interesting to me was the rest of Pomeroy's life: his decades in solitary confinement, followed by a version of freedom he didn't want and couldn't fully deal with.
A classic true crime study by an excellent author. Can't wait to get a copy of her other work, The Lady and Her Monsters.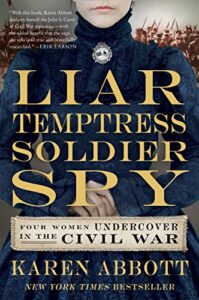 Liar Temptress Soldier Spy: Four Women Undercover in the Civil War
Karon Abbott
Fiction, paperback
"Women, it seemed, were capable not only of significant acts of treason, but of executing them more deftly than men."
A socialite, a farmgirl, an abolitionist, and a widow each make a split-second decision to aid their country during the deadliest conflict in US history.
My first Abbott read was Sin in the Second City, and after my second encounter I'm officially obsessed. She's been called the "pioneer of sizzle history," which is spot-on. This book has it all: espionage, secret codes, heroism, close calls, murder, and a whole bunch of men who make the stupid mistake of underestimating women.
Read if you want a nail-biting look at women being badasses.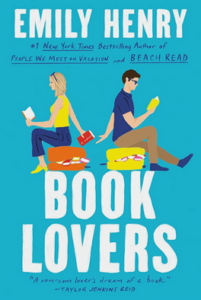 Book Lovers
Emily Henry
Fiction, audiobook, book club
"That's life. You're always making decisions, taking paths that lead you away from the rest before you can see where they end. Maybe that's why we as a species love stories so much. All those chances for do-overs, opportunities to live the lives we'll never have."
If Nora lived in a romance novel, she'd be the high-powered bitch the leading man dumps to move to an aggressively charming small town and marry the local pretty bakery owner/Christmas tree grower/crystal shop proprietor. And she's just fine with that — what matters most to her are her clients and little sister Libby. Which is the only explanation for why she lets said sister convince her to vacation in Sunshine Falls, North Carolina, where she keeps experiencing things that even the cheesiest romance writer would find implausible.
This was our book club's March selection, and it was perfect timing. I love a well-written novel that's fun brain candy, and this one had me laughing out loud. Main characters Nora and Charlie have the best back-and-forth zingers, and the realities of small town living (punny store names and terrible food options, anyone?) kept me hooked. My only quibble is that it uses the "I'll just assume instead of clearly communicating" trope to manufacture some drama. If an entire side plot could be cleared up by one character asking a single direct question, we've jumped the shark.
Another nice addition to Emily Henry's Beach Read (loved it) and People We Meet on Vacation (meh).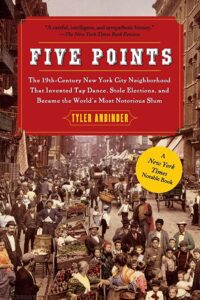 Five Points: The 19th-Century New York City Neighborhood That Invented Tap Dance, Stole Elections, and Became the World's Most Notorious Slum
Tyler Anbinder
Non-fiction, paperback
"From their struggles to endure the neighborhood's brutal tenements, to their desperate efforts to to find and keep work to support themselves and pay for the immigration of additional family members, to their eventual success in creating brighter futures for themselves and their children, Five Pointers' stories are as old as America itself, and yet as contemporary as the current waves of immigrants that continue to reshape our society."
Before the bright lights, restaurants, and tourist traps of New York's Chinatown came to be, there was Five Points. Its crowding and squalor was made famous by Jacob Riis' How the Other Half Lives, but what was the true experience of the immigrants who called it home in the 19th and early 20th centuries?
Damn do I love a good history book, especially when it's about somewhere I currently am. I picked up Anbinder's book at the Strand Book Store on a recent trip to NYC and thoroughly enjoyed learning about this new-to-me place and time. I knew about tenements and the masses of immigration to NYC from places like Ireland, Italy, and China, but this was a total cannonball into the topic. I admit to some skimming in the chapters on politics, but otherwise this was a fascinating study of the neighborhood's history, people, and impact on New York and beyond.
Perfect for history buffs and/or those obsessed with NYC.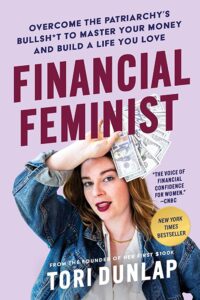 Financial Feminist: Overcome the Patriarchy's Bullsh*t to Master Your Money and Build a Life You Love
Tori Dunlap
Non-fiction, hardback
"This book has the nails and hammer you need to build a table — one with sturdy legs and a level top. It will be a place of abundance, full of blooming flowers, gleaming silverware, and endless fried chicken. Over time, when you're full and fed, you will add more planks and seats to the table. You'll invite others to share in your abundance, this joy, this ease. And when you're well nourished, you'll tear down the fences others have built."
Practical financial advice served with heaping side dishes of patriarchy smashing and real talk.
I've been a fan of Dunlap's since stumbling across her Financial Feminist podcast in 2021. Her thoughts and strategies gel nicely with my own personal finance practice, and I've awaited this book eagerly. It's got chapters on what I would call the basics (budgeting, saving, etc.) plus great "advanced" stuff like investing and negotiating. It includes lots of exercises and space to take notes, plus the right amount of "these systems are broken but f*ck that let's succeed anyway" feelings.
An excellent choice for anyone looking for judgment-free financial advice with an attitude.
Photo by Roberta Guillen on Unsplash