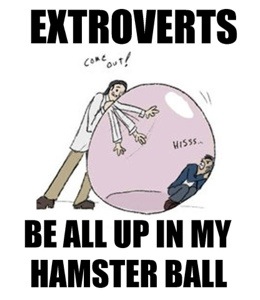 (IBQ is hosted by Chris at 61 Musings, and is a way for introverts to share all that goes into living a quiet life.)
This week's prompt: What does solitude mean to you? How do you experience solitude?
It's never apparent how loud the world normally is until you get up early on a Sunday morning to get some writing done.
No one calls you and your phone doesn't buzz with text messages; your email is silent; traffic noise is quieter; there's no one at the computer next to you clicking around or listening to their music too loudly; no one leans over your shoulder asking about project status.
It's like someone has turned down the world's dimmer switch. Everything is still and small and quiet.
This is the opposite of my mind, which is constantly spinning and thinking and planning and worrying. Many introverts can relate to this experience, but add in my (now officially diagnosed) Generalized Anxiety Disorder and you've got a recipe for frequent meltdowns.
For me, solitude is critical. Being around so much noise — traffic, conversations, music — is physically exhausting, and solitude is what charges me back up so I'm able to function the next day.
I do better, feel better, work better, relax better, and enjoy myself better in solitude.