Innovative Planning, Level Three: Focus on the Positive. The purpose of this project is to practice being aware of my thoughts and feelings, as well as the impact of my responses on others.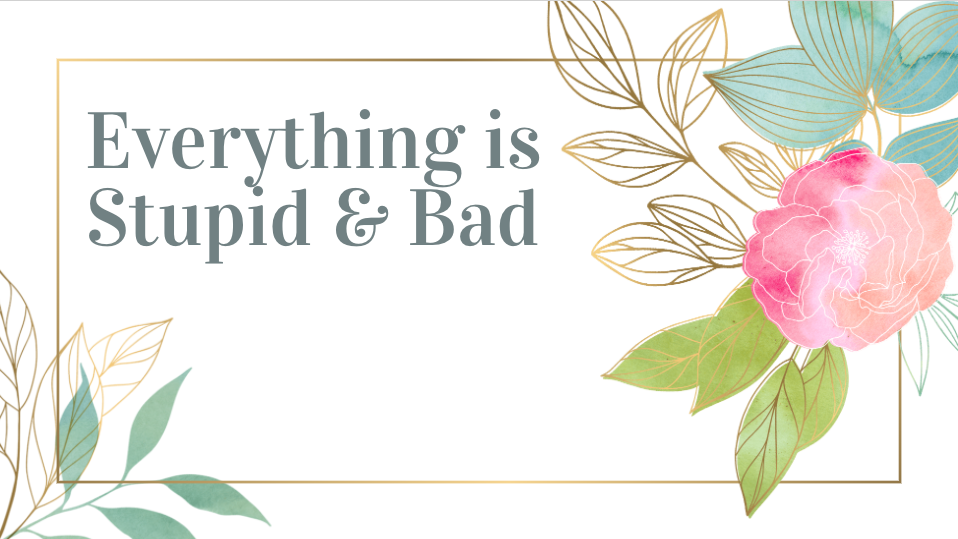 Today I'm going to be talking about positivity.
It's a little hard to be positive right now — hence my presentation's title — but in the end this project reaffirmed a few things I already knew about myself, as well as brought me good insights.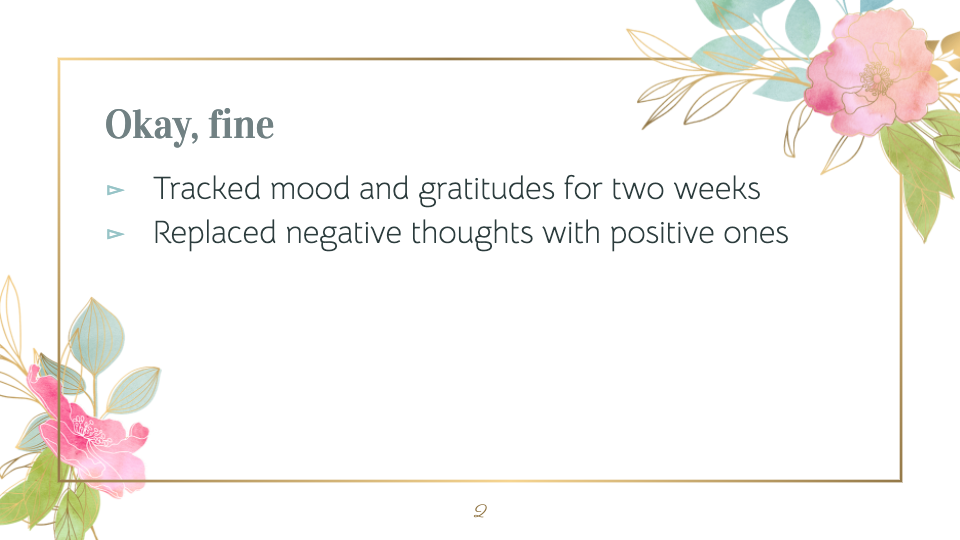 At end of each day for two weeks I noted my mood and three things I was grateful for.
I also did my best to recognize when I had a negative thought ("Man, I have to do this stupid Toastmasters project about positivity.") and replace it with a positive one ("I have an opportunity to learn something and present it.")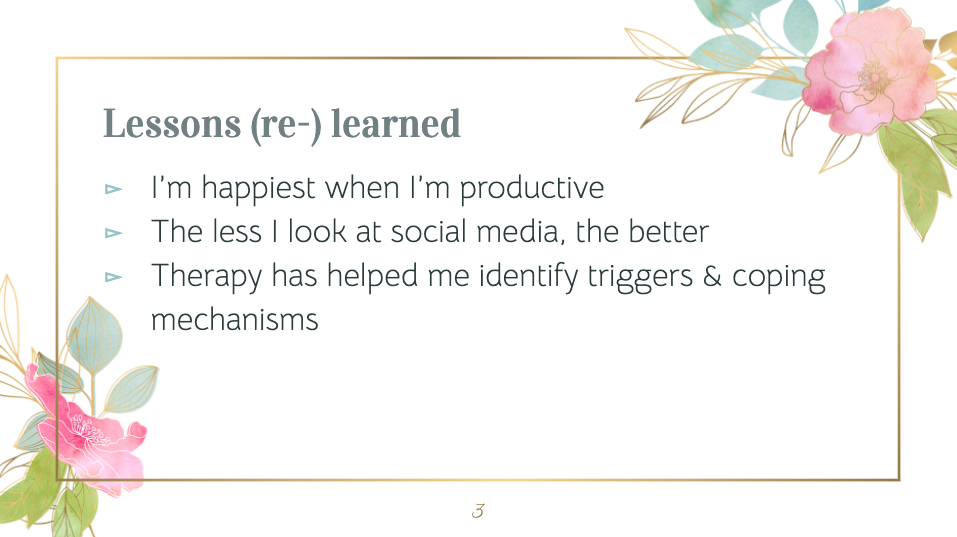 I've been doing Cognitive Behavioral Therapy for the last 5+ years, so these exercises were not new to me — and neither were the results.
I'm happiest when I'm productive

Relaxation is not my natural state. I like to be doing things, whether at work or at home. If I have a day where I accomplish a lot, I tend to be happier.

The less I look at social media, the better

We're dealing with a pandemic, an election year, and incredible societal upheaval — it's hard to be positive when things feel so dark.
I'm trying to break my habit of mindless scrolling. When I do pick up my phone, I spend more time on Instagram, where I follow lighthearted and more interest-based accounts. I try to check regular news just twice a day.

Therapy has helped me identify my triggers and coping mechanisms

I'm much better at recognizing when I've reached my limit and knowing how to step away.
One day at work recently there was just too much going on. Emails coming in, people pinging me on Slack, lots of tasks to do. Fortunately my hours can be flexible, so at about 4pm I decided I'd had enough and decided that my day was done. I logged off and took a nap, had a good dinner, and went back to work the next day in a better frame of mind.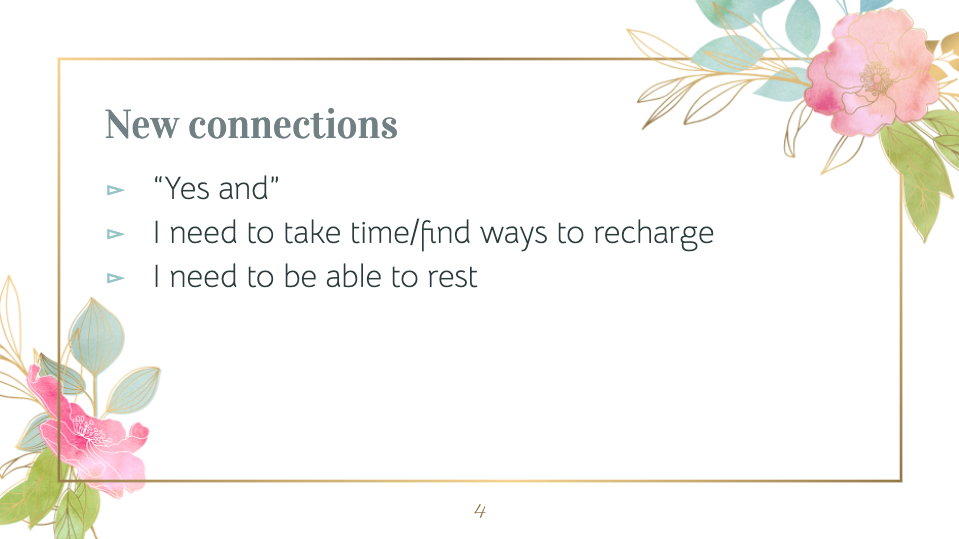 I also learned some new things.
"Yes and"

This is a concept employed by people performing improv.
When your scene partner says, "We're waiters at this restaurant," your response should be, "Yes, and we're wiping down tables after closing."
By saying "Yes and" you're enabling the scene to continue and building off each other.
This concept applies to the wider world. At work it's helpful during brainstorming/troubleshooting sessions, as well as when things are stressful and we just need to get through it. "Yes, that's a good idea, we should add X to the list" or "Yes there's a lot going on, but we'll get through it!" It results in better collaboration and solutions to challenges.

I need to take time/find ways to recharge

Recharging is important because life is still happening. I still need to work, make dinner, do laundry, and I can't keep doing those things if I burn out.
Being stuck at home has limited my options, but surprisingly I'm finding yard work to be a beneficial thing for my physical and mental health.

I need to be able to rest

This is different from recharging, and is even more critical.
Being productive makes me happy, but that's partly because I associate productivity with worth. So if I'm not doing something I consider productive, a part of my brain starts questioning my value.
I have to keep reminding myself that I'm valuable and worthy by just being, and that I don't have to keep "doing" in order to matter.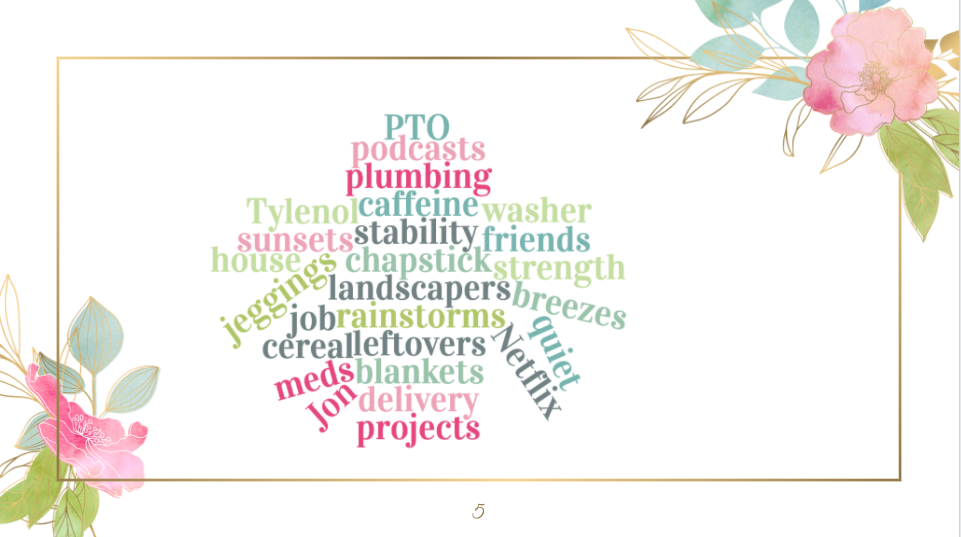 Lastly I'm sharing a word cloud of a few of the things I felt grateful for during this two-week exercise.
I like that it's a combination of serious things like "stability" and "strength," but also sillier things like "jeggings" and "chapstick."
2020 has not been easy, but I have a lot to be grateful for. And I hope that this exercise helps me remember to focus on the positive.
Photo by Michelle Phillips on Unsplash