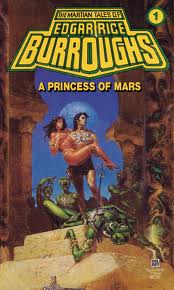 When Civil War veteran Captain John Carter seeks refuge from Indians in a cave in Arizona, he has no idea of the adventure that awaits. The cave is some kind of magical conduit between earth and the stars, and he awakes from a doze to discover that he has been transported to Mars — and made a prisoner of the violent Green Men of Thark.
Just as Carter has started learning how to exist within his captors' culture, Dejah Thoris — the princess of another Martian clan — is captured by the Green Men. The two are drawn together by circumstances, and soon make their escape. But how long will their freedom last?
A smidgen of history
A Princess of Mars is the first in Edgar Rice Burroughs' 11-book Barsoom series. Unlike the expensive failure that was Disney's 2012 film adaption John Carter, Burroughs' book series was pretty popular, and eventually inspired authors like Ray Bradbury and Arthur C. Clarke and filmmakers like James Cameron and George Lucas.
The book is classic pulp fiction (violence, heroic characters, etc.) and is apparently the first instance of "planetary romance," a science fantasy sub-genre that's been going strong since Burroughs pioneered it.
Certainly interesting
It's probably no surprise that pulp fiction is not a genre I've read much — it tends to be fairly violent, as well as a little sexist (damsel in distress, anyone?). And I know you're not supposed to judge a book by its cover, but…that art? Really?
A Princess of Mars was written in 1917 so it's a bit slower than contemporary novels, but it's actually held up pretty well. The story is pretty cool, and although there is a lot of violence, it's balanced nicely by the authors' sociologist-like descriptions of Martian races and the different kinds of lives they lead.
There are some interesting themes (race, gender relations, etc.) and reads almost like a Western set in space. And of course there's a romance too, although it's a little lackluster — Dejah is a stereotypical Damsel in Distress character, and we never hear any part of the story from her perspective. One hopes that a reader would get a more three-dimensional view of her in the next 10 books in the series.
Final conclusion: A solid, if less than stellar, read. I'd be interested to see where the story ends up, but I'm not sure I want to read 10 more books to find out.
Anyone else read this or Burroughs' Tarzan series? What did you think?