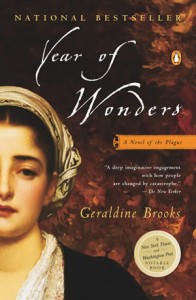 In the fall of 1666, whispers of a horrible plague are spreading even faster than the disease. When an infected bolt of cloth makes its way to the small village of Eyam, its citizens make a brave decision to quarantine themselves in hopes of stopping the spread of the disease.
But as fall drifts into winter, the tightly-knit community begins to fray. Soon the dead outnumber the living, and even those whose faith in God is strongest begin to rely on more than just prayers for their family's safety.
A fictionalized version of the real-life quarantine of Eyam, England, Year of Wonders follows one town's—and one woman's—struggle to survive a disease that killed hundreds of millions around the globe.
Another hit
Normally I avoid books about the plague…well, like I avoid the plague, but I couldn't resist the opportunity to read another Geraldine Brooks novel. She wrote March, one of my favorite reads of 2011, and I knew her beautiful storytelling would probably outweigh any of the gore and sadness that might occur in a novel about the plague.
And lo and behold, I was right. Year of Wonders is amazing, with beautiful themes jumbled up in gruesome descriptions of almost inconceivable horror. Anna, the narrator, is a heroine in the truest sense of the word, fighting the injustices of witch hunts, abusive parents, and the disease itself.
While the temptation may be for an author to write a character that shows her strength by rising above it all, Brooks chose to create a narrator with flaws and weaknesses. To do anything less would have rendered Anna unbelievable; no one lives through a plague without going through some serious shit.
And that twist? Absolutely chilling and devastating.
Notes on history and research
I didn't know until the novel's afterward that Year of Wonders was a fiction based in truth. When faced with a plague outbreak in late 1665, the people of Eyam decided to quarantine themselves (instead of running away and spreading the disease further). The numbers are a little fuzzy, but most accounts claim that more than half the village's population died of the disease.
Many of the names in Brooks' novel are exact, or very close, matches to their real-life counterparts. This is another instance in which the author has clearly done her research, and used it to sculpt a perfect world in which to tell her story.
If you haven't read any of Brooks' works (novels or non-fiction), you should. It's all a little — or maybe a lot — dark, but it's incredible and leaves you feeling grateful that such writers exist.
Anyone else love (or hate) Brooks? Let's talk about it!