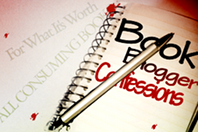 (Hosted by Karen at For What It's Worth and Tiger at All Consuming Media, the purpose of this twice-monthly meme is to discuss the nuances of being a book blogger. Join in anytime!)
May 7 question: Comments. The holy grail of blogging success! What type of posts do you leave comments on? How do you try to encourage more comments on your blog? Do you respond to people who leave comments on your posts? How do you handle negative/spam comments? Do you use captcha?
Like most bloggers, I love comments. They're a great way to meet new people, find new blogs, and get feedback on what you're doing.
My goal is to comment on every post I read, although this doesn't always happen. I tend to save up posts in my RSS reader and read/comment on them en masse when I have free time; but sometimes I delay too long and end up with 40 or 50 posts that I "saved for later." In those cases I give it up for lost, skim the post, and forgo a comment.
I'm much better at moderating and commenting on my own posts. I respond to every comment I receive, and encourage discussion by asking questions at the end of each post. Not everyone takes me up on the offer, but I have a few loyal commenters with whom I enjoy talking.
I use the Akismet plugin to moderate comments and zap spam. I hate filling out CAPTCHA fields, and don't want to make my readers do so; fortunately Akismet is great at sorting what's real and what's not, so I've never had to take the next step of using a CAPTCHA on my comment form.
Leave your comments about comments in the comments section (how meta)!