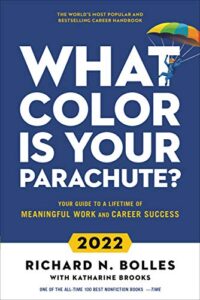 What Color is Your Parachute?
Richard N. Bolles
Non-fiction, hardback, library book
"Always define WHAT you want to do with your life and WHAT you have to offer to the world, in terms of your favorite talents/gifts/skills-not in terms of a job-title."
Finding a job is hard — finding yourself is even harder. First printed in 1970 (and updated annually since 1974), What Color is Your Parachute? aims to help readers identify their preferences and strengths so they can target their job search to positions they love and find meaningful.
I'm not currently job searching, but I used this book many years ago and remembered finding it valuable. This time around I skipped the job hunt stuff and focused on what's called "The Flower Exercise," which helps you identify things like your favorite fields of interest, the types of people you love working with, and even places you would enjoy living. Once you have your Flower, the idea is to use it to narrow down what kinds of jobs you search/apply for so that you're more likely to find something you will enjoy and excel at. It's interesting to see how my Flower has changed (or not!) over the years, and my plan is to use it to develop myself within my current role.
Give the latest edition a shot if you're looking for a job or are just interested in knowing yourself better.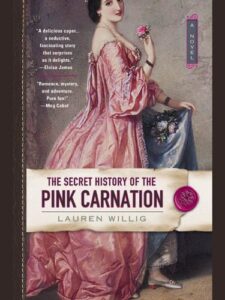 The Secret History of the Pink Carnation
Lauren Willig
Fiction, hardback, library book
"Swooning solves nothing."
Eloise's dating life may be down the tubes, but she's determined to make her professional life a success. The best way to do that is to discover the identity of the most famous spy in history: the Pink Carnation. The truth is somewhere within the delicate papers to which she's been granted access, but the papers' owner is decidedly uninterested in her presence — if only Eloise could be so uninterested in his.
I read Willig's book and a number of its sequels several years ago, and when I stumbled across it at the library I figured it would be fun to revisit. Boy was I right! The story is told from three perspectives across two time periods: Eloise in modern times and Lord Richard Selwick and Miss Amy Balcourt in post-revolutionary France. Every character is fun, the spying shenanigans are entertaining, and there's just enough spice to consider this in the "Romance" category. I recall the plots getting a little repetitive across the sequels I read, but if you like the formula there's plenty to enjoy!
Pick up a copy of The Pink Carnation if you like historical fiction, smart/sassy heroines, and just the right amount of swooning.
A Fatal Thing Happened on the Way to the Forum: Murder in Ancient Rome
Emma Southon
Non-fiction, audiobook
"As had happened with Julius Caesar, it turned out that the people of Rome were actually quite keen on Gaius and were not fans of presumptuous senators and magistrates making unilateral decisions about the nature of Roman government with swords. Supreme executive power derives from a mandate from the masses, they believed, not from some farcical bloody murder. Strange men in corridors distributing stab wounds was no basis for a system of government."
The foundations of Rome were set in blood. From its earliest days, murder was used to consolidate power, keep enslaved people under control, and even as entertainment. What did a society whose populace roared for the killing blow in the arena think about the concept of murder?
I found Southon's book on one of my many jaunts through Audible's catalog of free books, and downloaded it mainly because the title made me smile. Following the adage "you get what you pay for," I wasn't expecting it to be as well-researched and — dare I say — as funny as it turned out to be. One of the most interesting things I learned was that for a long time in Rome, murder wasn't an offense the government cared to prosecute — if someone's bucket got kicked it was up to their family to pursue and sort it out privately with the killer. The sections on murders committed against and by enslaved people were also fascinating, if incredibly grim and infuriating.
Try out Southon's book if you like history and murder with a side of snark and pop culture references.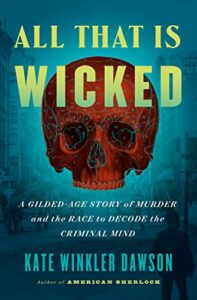 All That Is Wicked: A Gilded-Age Story of Murder and the Race to Decode the Criminal Mind
Kate Winkler Dawson
Non-fiction, hardback, library book
"The Gilded-Age investigators…were nineteenth-century mindhunters, plumbing the depths of the criminal brain for insights about the nature of evil and what leads a man to kill. These investigators were given a daunting task: evaluate what went wrong with Edward Rulloff and whether to end his life."
None of the visitors to the prison cell of Edward Rulloff believed he was innocent. What the neurologists, phrenologists, and alienists (early psychiatrists) wanted to know was whether he was sane — and if he was, in fact, too brilliant to be hanged.
I love Dawson's books, but this one didn't quite hook me. I think it's because although Rulloff was a marvel worth studying in his day, in the end (and wow would he hate this) he just…wasn't that special. He was like every other psychopath: arrogant, manipulative, and eventually kinda boring. I don't know if he could have outrun the monster inside, but it doesn't even seem like he tried. By the time I got to the final page I just found him both despicable and pitiful.
This would be a good selection for people who want to get into true crime but find more recent stuff too much to handle. But if you've read the littlest bit about psychopathy, I don't think it reveals anything you wouldn't already know.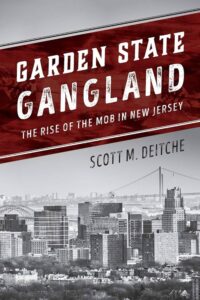 Garden State Gangland: The Rise of the Mob in New Jersey
Scott M. Deitche
Non-fiction, audiobook, DNF
"…if there was one focal point, one birthplace where originated the larger, more influential crime figures who would shape both the underworld and overall history of the state through much of the twentieth century, it would be Newark."
For better or worse, New York is synonymous with the Mob. But while names like Gambino, Castellano, and Gotti took all the headlines in the 1970s and 1980s, the origins of La Cosa Nostra in the US center mostly outside the Big Apple. Author Scott M. Deitche (himself the grandson of a small-town crook) takes the reader through those origin stories to show how the Mob became the powerhouse it did.
I love Mob stuff. I've watched pretty much every documentary I can find, and was so excited to pick this up because I thought it would continue nurturing that interest. Alas, just like last month's Outlaws of the Wild West, this had no real throughline and was so repetitive that I just tuned it out and eventually called DNF. I'm not sure if it was the writing style or the lack of visuals, but it couldn't keep me interested.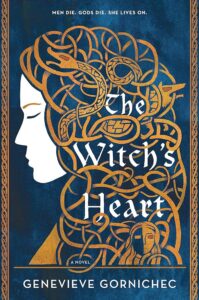 The Witch's Heart
Genevieve Gornichec
Fiction, hardback, library book, DNF
"Long ago, when the gods were young and Asgard was new, there came a witch from the edge of the worlds."
After the witch Angrboda is punished by Odin for refusing to reveal the future, she confines herself to a long-dead wood out of reach of his all-seeing eye. But the arrival of the trickster god Loki and the fearless huntress Skadi jeopardizes her solitude, her heart, and perhaps even the future itself.
I tried so hard to like this book. I think I was secretly hoping for a spiritual sister of Madeline Miller's Circe, but what I got was unpronounceable names and a woman giving birth to a snake. Norse mythology is too strange for me, and I spent too much time being distracted by the general weirdness to enjoy the story. I got to about the halfway point before having to set the book aside, and then never wanted to pick it up again. I skimmed the last half to see what the ending was, and back to the library it went.
If you want a great retelling with a strong female lead, skip this one and read Circe.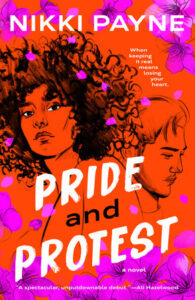 Pride and Protest
Nikki Payne
Fiction, paperback, library book
"When she was done, she held the large napkin up behind Dorsey Fitzgerald, photobombing his entire live interview. He spoke earnestly and gestured dynamically, never knowing what the whole world behind him saw scratched out in deep red lipstick: NETHERFIELD MUST GO"
Dorsey Fitzgerald grew up rich and thinks he's got it all figured out; Liza Bennett grew up poor and believes that anyone with money is a snake in the grass. Sparks fly when the two collide over the plan to gentrify Liza's neighborhood, resulting in viral memes that neither of them are happy about. But as much as they try avoiding each other, the universe seems determined to get them in the same room — where both of them feel a very different kind of spark.
One of my book club friends mentioned this book to me, possibly as a joke. Little does she know that I'll read anything remotely related to Pride and Prejudice. Payne's novel is a modern (and may I say very spicy) retelling of Jane Austen's classic, and I enjoyed every second of it. It proves that Austen's stories and characters are universal, and that first impressions are not always what they seem.
Read this if you like Pride and Prejudice or retellings of classics that focus on more modern issues.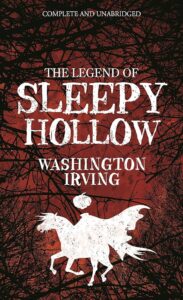 The Legend of Sleepy Hollow
Washington Irving
Fiction, short story, paperback, library book
"In the dark shadow of the grove, on the margin of the brook, he beheld something huge, misshapen, black, and towering. It stirred not, but seemed gathered up in the gloom, like some gigantic monster ready to spring upon the traveller."
The classic tale of Ichabod Crane and his encounter with the Headless Horseman of Sleepy Hollow.
This one's hard to summarize because it's so short that just a few details give it away. Suffice to say it's mysterious, more than a look spooky, and has surprisingly mouthwatering descriptions of food.
The perfect read for a dark and stormy night in October — give it a try in audiobook format to pump up the spooky factor.
Photo by Jeremy Harris on Unsplash