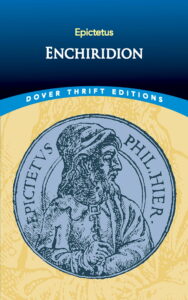 Enchiridion
Epictetus
Non-fiction, paperback
"Some things are in our control and others not. Things in our control are opinion, pursuit, desire, aversion, and, in a word, whatever are our own actions. Things not in our control are body, property, reputation, command, and, in one word, whatever are not our own actions."
If Seneca's writings (see below) are the Stoic Bible, Enchiridion is its Proverbs. Although not its progenitor, Epictetus is considered one of the most important Stoic philosophers and Enchiridion one of its founding documents.
I've been nibbling at the edges of Stoicism for a couple years, but have only recently cobbled together something resembling a philosophical practice and started reading the (translated) source material. The challenge with Epictetus is that writing styles were quite different 2,000 years ago, so it's a little like chewing on an overcooked steak: ya gotta just kinda muscle through it.
Fortunately, there are many semi-contemporary and modern commentators to accompany me on my journey: the emperor Marcus Aurelius and his Meditations, as well as the Daily Stoic podcast. And let's not forget Seneca.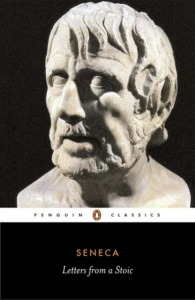 Letters from a Stoic
Seneca
Non-fiction, paperback
"…part of the blame lies on the teachers of philosophy, who today teach us how to argue instead of how to live, part on the students, who come to the teachers in the first place with a view to developing not their character but their intellect. The result has been the transformation of philosophy, the study of wisdom, into philology, the study of words."
This quote perfectly captures how I felt about the one philosophy class I took in college: an exercise in wasted breath. Aristotle, Locke, Kant, cosmology and metaphysics, blah blah blah. What's the point of all this talking, I asked myself all semester.
Turns out the Stoics felt the same. Most of them didn't write much down because they would rather their students go out and live as Stoics, instead of arguing about the principals and purpose of Stoicism.
Seneca is an exception — he wrote a lot (and thankfully in a different style than Epictetus). Which is how we ended up with Letters from a Stoic.
Read either (or both!) of these if you want a deep dive into a practical, action-oriented philosophical tradition that focuses on courage, justice, temperance, and wisdom.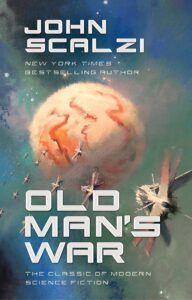 Old Man's War
John Scalzi
Fiction, audiobook, book club, DNF
"I did two things on my seventy-fifth birthday. I visited my wife's grave. Then I joined the army. Visiting Kathy's grave was the less dramatic of the two."
Humanity is no longer top dog in the universe. They and dozens of other species are at war over limited resources and habitable planets. The self-governed Colonial Defense Force (CDF) offers those with little to lose a chance at a new life — if they survive.
I was going to end the previous paragraph with, "But can the CDF be trusted?" but of course the answer is not even a little. Which also turned out to be the answer to the question, "Do I want to keep reading this?" I liked the main character and the general premise was interesting, but I DNF'd a third of the way in because (1) I was bored and (2) I could tell that nothing good was going to happen. And of course when I read a summary later I was shocked — shocked I say! — that the military organization with unlimited power and "borrowed" technology was making unethical choices.
That said, most people in the book club liked it and it was nominated for a Hugo Award, so it's likely that Old Man's War just isn't for me. Give it a try if you like modern sci-fi with a classic feel, snappy dialogue, and evil military shenanigans.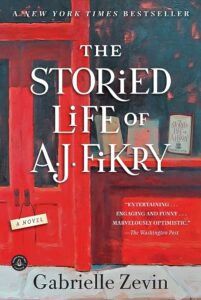 The Storied Life of A.J. Fikry
Gabrielle Zevin
Fiction, paperback
"We aren't the things we collect, acquire, read. We are, for as long as we are here, only love. The things we loved. The people we loved. And these, I think these really do live on."
Depending on who you ask, A.J. is the local bookshop owner, an unsociable grump, or a straight-up jerk. But when a stolen collectible and unlocked door start him on an unexpected journey, A.J. realizes that he needs (and wants) to make room for what matters most.
Just like for A.J., fate had it out for me when I saw a single copy of Zevin's novel in a used bookstore. It had been on my TBR for several years, but I had yet to run across a copy until that day. What a lovely read! Excellent characters, a little bit of mystery, and a whole lot of heart — for people, books, and life. Bittersweet and beautiful.
Read if you love books, have a soft spot for kindly curmudgeons, and know there are some tissues close by.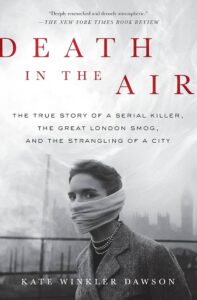 Death in the Air: The True Story of a Serial Killer, the Great London Smog, and the Strangling of a City
Kate Winkler Dawson
Non-fiction, paperback
"This is the parallel story of two killers. As different as these murderers were, their similarities were striking. Both strangled their victims. Both eluded suspicion. And both nearly escaped justice. Each changed law in Britain and, in many ways, around the world."
For five days in December 1952, Londoners lived entombed in a fog so toxic it would eventually claim 12,000 lives. In a squalid tenement on the west side, a killer grew restless — at least six women would die before his arrest. The full truth of those days, and the man, may never be fully known.
I couldn't go the whole month without picking up a "murder book", and boy was this a great way to wrap up my August reading. Kate Winkler Dawson is quickly becoming one of my favorites; American Sherlock was fascinating and I love Buried Bones, the podcast she co-hosts with retired detective Paul Holes. I'd heard of the Great Smog and killer John Christie, but Dawson's book was a headfirst dive into the facts — and the fictions spread by both the government and the media. Just like London in the fog, Christie's life and murders are known only in shades of grey.
A great choice for true crime lovers, history buffs, and those who enjoy excellent research.
Photo by rajeev ramdas on Unsplash