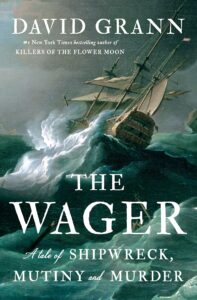 The Wager: A Tale of Shipwreck, Mutiny and Murder
David Grann
Non-fiction, hardback, book club
"We all impose some coherence—some meaning—on the chaotic events of our existence. We rummage through the raw images of our memories, selecting, burnishing, erasing. We emerge as the heroes of our stories, allowing us to live with what we have done—or haven't done."
In January 1742, an emaciated group of 30 men who had sailed away almost two years before washed ashore in Brazil. Their ship had wrecked on an uninhabited island off Patagonia, and it was only their wits and will to survive that helped them build a makeshift craft and sail more than 3,000 miles. They were hailed as heroes…which made it very awkward when, six months later, three more men from the doomed ship also made it home and accused their fellow sailors of mutiny and murder.
It feels a little early to be saying this, but The Wager may be one of my favorite reads of 2023. It is, quite honestly, batshit insane. Not only do these men go on a suicidal journey that's the political equivalent of a pissing contest, they also wreck on what's possibly the most godforsaken rock in South America, Lord of the Flies-it-up for months, and somehow make it 3,000 miles in glorified rowboats. All in time to write their own versions of what really happened on Isla Wager. This book fascinated me from start (You had to keep rebuilding the boat underneath you! Need sailors, kidnap dudes from the streets or prisons!) to finish (the incredible ability of governments to ignore the truth in favor of good PR!).
Pick up a copy if you love high seas history, survival stories, and are more interested in drawing your own conclusions than in having them presented to you.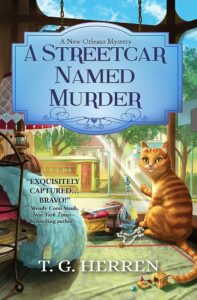 A Streetcar Named Murder
T.G. Herren
Fiction, hardback
"Nothing will break up a party faster than ambulances, fire trucks, and the police."
It's been quite the day for Valerie Cooper. First she runs into the woman who likes her the least while out running errands, then she comes home to a letter from a lawyer naming her and her children as the inheritors of a fortune built by a relative she never knew she had. Now she's the majority owner of a New Orleans antique store and heiress to a mystery decades in the making. And then she finds the body.
I pulled this off my shelf hoping it would be a palate cleanser after The Wager, which was so good that I was having trouble getting interested in a new book. Like all other cozy mysteries, it worked like a charm. The plot was fairly predictable and the main character a little flat in comparison to her friend Lorna and New Orleans itself, but overall it was a great way to spend a couple days.
This one's for you if you love a cozy mystery set in the most mysterious city of all.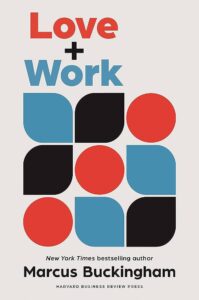 Love + Work: How to Find What You Love, Love What You Do, and Do it for the Rest of Your Life
Marcus Buckingham
Non-fiction, hardback
"…your brain has more connections within it than five thousand Milky Ways…There is no one in the world — nor has there ever been, nor will there ever be again — who has the same pattern of one hundred trillion connections as you."
We've all heard the phrase "do what you love," but Marcus Buckingham believes that most of us aren't given the tools or freedom to discover those loves, especially after we make it to the workplace. Love + Work is his roadmap to helping you pinpoint what you love and incorporate it into your work — to the benefit of yourself, your team, and your company.
Career and self-self development is my low-key obsession, to the point that I don't find books like this personally valuable. But as a first-time manager, it's getting me into the mindset of helping others discover what they love. Which is fun, because it means I get to join them on their journeys! I added several quotes to my work-specific commonplace book for future use, and will be integrating a few of the tips into conversations with my direct reports.
Give this a read if you're hoping to learn more about yourself or are looking for ideas on improving your work team.
Photo by Corey Agopian on Unsplash