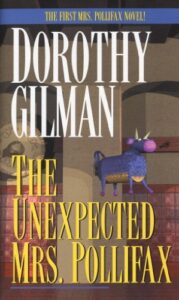 The Unexpected Mrs. Pollifax
Dorothy Gilman
Fiction, audiobook
"It struck her as extremely characterless for any human being to sit around waiting for execution. It wasn't that she had so much character, thought Mrs. Pollifax, but rather that always in her life she had found it difficult to submit. The list of her small rebellions was endless. Surely there was room for one more?"
Mrs. Emily Pollifax is bored. She's a widow, her children are grown, and if she has to attend one more garden club meeting she may just lapse into catatonia. It's time for a new adventure. So one lovely morning she drives to the CIA headquarters and offers her services as a spy.
The only reason I know about this series is that its author, Dorothy Gilman, was the answer to a Trivial Pursuit question during a recent competition with my mother (she crushed me, as usual). And while the idea of a 50-something housewife becoming a CIA agent, getting kidnapped, then engineering her own escape does stretch the bounds of believability…I kinda loved it. Mrs. Pollifax is intelligent, crafty, and — no surprise here — more capable than most of the men around her. The international politics aspect wasn't to my taste, but it was easy to let that fade into the background while watching a whip-smart lady save herself and her companions with a daring escape.
Grab this first in Gilman's Mrs. Pollifax series if you like strong, smart female characters who have an uncanny knack for getting themselves into (and out of) sticky situations.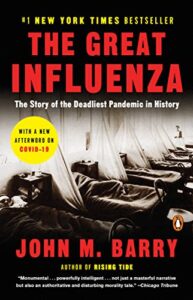 The Great Influenza: The Story of the Deadliest Pandemic in History
John M. Barry
Non-fiction, paperback
"Although the influenza pandemic stretched over two years, perhaps two-thirds of the deaths occurred in a period of twenty-four weeks, and more than half of those deaths occurred in even less time, from mid-September to early December 1918. Influenza killed more people in a year than the Black Death of the Middle Ages killed in a century; it killed more people in twenty-four weeks than AIDS has killed in twenty-four years."
No one expected an apocalypse to begin at an army camp in Kansas. But as thousands of troops moved across the country and globe during WWI, they brought with them a disease so virulent and so deadly that it would send military and civilian life into a downward spiral that could have meant the end of mankind.
Over the last several years I've heard lots of comparisons between COVID-19 and the influenza of 1918. I didn't know much about the latter, and after reading Barry's book I can confidently say that as horrifying as 2020 was, it was a quiet day in the park compared to the batshit insanity that was 1918. The Great Influenza focuses on the scientists doing causality/vaccine research, the military staff who were desperately trying to stop the troop movements that sped up transmission, and the civilian medical industry that was swarmed with death. This book was originally published in 2004, so it was fascinating to read the updated afterword where the author reflects on 2020 and its parallels.
It's too soon to know what historians will write about regarding COVID-19, but The Great Influenza gives the reader a glimpse of the possibilities. Recommended reading, but make sure you're in the right headspace for it — there are some truly gruesome, frightening, and infuriating sections.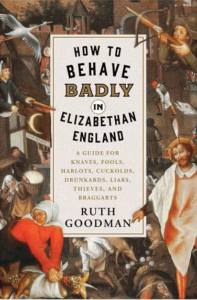 How to Behave Badly in Elizabethan England: A Guide for Knaves, Fools, Harlots, Cuckolds, Drunkards, Liars, Thieves, and Braggarts
Ruth Goodman
Non-fiction, hardback
"Sixteenth- and seventeenth-century England was a place of vitality, experimentation, expanding horizons and lots of small-minded, petty, badly mannered irritating and irreverent oiks, guls, gallants and harridans. And I love them all."
No one could put together a good insult quite like the Elizabethans. Modern folks can string some foul words together, but Elizabethans could find ways to insult each other with something as simple as a bow or choice of clothing.
Ruth Goodman is known for her love of all things Tudor, Elizabethan, and Victorian, and this book is no exception. I grabbed this thinking it would be a silly/light sort of reference list, but Goodman takes it much deeper. The people of yesteryear were not slovenly, rude idiots — they prized good manners and cleanliness in ways similar to their descendents. The only difference is that most insults today don't result in duels to the death or a loss of livelihood for those involved.
While I enjoyed this one, the visual nature of many of the topics (types of bowing, gestures, etc.) were very visually-based…and copies of old wood cuttings accompanied by a long paragraph describing the movement wasn't always helpful. That said, if you love history books written by passionate history nerds, add this one to your list!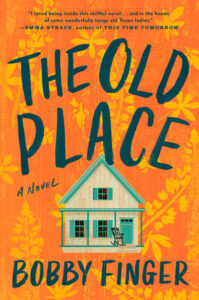 The Old Place
Bobby Finger
Fiction, hardback
"At a certain point, she decided then without argument, life becomes a straight line with no branches, a road with no exit ramps. Grief would define the rest of her years, and it was time for her to get used to that."
Mary Alice Roth is her small Texas town's menace: set in her ways, unwillingly retired, and burdened with a sad history that everyone uses as a reason for overlooking her behavior. But what can't be overlooked is Mary Alice's sister showing up to deliver news that threatens to shatter families, friendships, and the town itself.
This was not my favorite read of the month, for multiple reasons. Normally I love a character study, but apparently that's only when the character is likable — and Mary Alice is not. Intellectually I can understand why her circumstances would impact her the way they did, but like several other characters in this book I'm infuriated that the whole town plays into her self-inflicted martyrdom (especially once the secret is out). Additionally, I felt like the book's pacing was off — there was a lot of ramp up to the main plot, then suspense/holding pattern for way too long, and then the author crammed all the action (but still no actual resolution) into the last few pages.
Overall an okay read, but not one I'll be keeping on my shelf.
Photo by Thomas Park on Unsplash