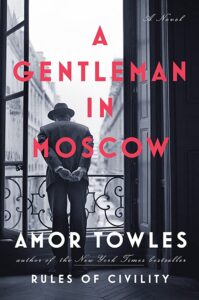 A Gentleman in Moscow
Amor Towles
Fiction, paperback, book club
"And when the Count's parents succumbed to cholera within hours of each other in 1900, it was the Grand Duke who took the young Count aside and explained that he must be strong for his sister's sake; that adversity presents itself in many forms; and that if a man does not master his circumstances then he is bound to be mastered by them."
In the aftermath of the assassination of Czar Nicholas II and the revolution that followed, Count Alexander Rostov has been spared death — instead, he is given lifelong imprisonment in Moscow's Metropol Hotel. Now Rostov must decide how to spend a life that many would consider already ended.
Despite being set in the previous century, I found Towles' novel remarkably applicable to today. How do we find connection despite isolation? How do we define our purpose when everything feels purposeless? What would we risk for others, if not for ourselves? Like most literature set in Russia, the novel is a little slow and seems to think the reader is more interested in Bolshevik history than they really are, but overall it's a good read that kept me thinking even after I closed the pages.
Pick this up if you're looking for something introspective with interesting themes — although I recommend a physical/e-reader copy so it's easier to skim over the (ahem) extensive footnotes.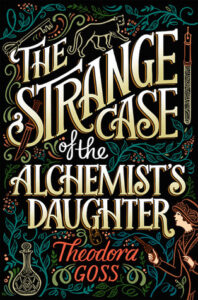 The Strange Case of the Alchemist's Daughter
Theodora Goss
Fiction, paperback, book club
"She had longed for adventure, and now that it was happening to her, she was not sure how she felt about it."
This book follows a simple but fascinating idea: what if doctors Jekyll, Rappaccini, Moreau, and Frankenstein gave the world even more legacies than anyone knew? Welcome to the stories of the experimented-on daughters these madmen left behind.
This first in the Extraordinary Adventures of the Athena Club series introduces the reader to characters who are smart and tough, but also haunted (and even broken) by the things their fathers did. Throw in some mysteries, murders, and way less unethical science, and you've got a recipe for one fun story.
Check this out if you're in search of strong female characters and enjoy picking up on classic literature easter eggs. Another book I recommend you read in physical/e-reader format due to its structure of the characters speaking in first person to each other in the middle of the tale.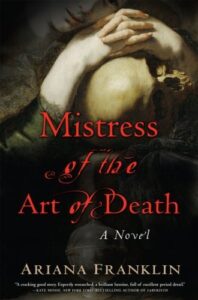 Mistress of the Art of Death
Ariana Franklin
Fiction, audiobook, re-read
"… Turn over that stone" – she pointed to a flint nearby – "and you will find a charlatan who will dazzle you with the favorable conjunction of Mercury and Venus, flatter your future, and sell you colored water for a gold piece. I can't be bothered with it. From me you get the actuality."
Children are dying in Cambridge, and King Henry II believes it will take a master of the art of death to unmask the killer. Little does he know that the best person for the job is not a master, but a mistress.
I originally read this book all the way back in 2012, and remembered enjoying it when I came across a copy by chance. Adelia is everything I love in a female main character: intelligent, self-aware, and unwilling to take shit from anyone. All the characters are well-rounded (even the bad ones), and the mystery kept me on my toes.
Perfect for lovers of historical fiction/crime and amazing women — but be prepared for some truly gruesome descriptions of murder victims and other incredibly unpleasant situations.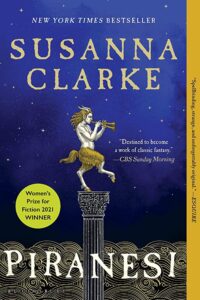 Piranesi
Susanna Clarke
Fiction, audiobook, book club
"The Beauty of the House is immeasurable; its Kindness infinite."
Piranesi has always lived in the House, and he has always been happy. He spends his days cataloging each room's features and contents, and helping the Other with his arcane rituals. But all is not well in the House — something is coming to threaten everything Piranesi has ever known.
It's very difficult to talk about this book without spoiling it, but I will say this: Piranesi is beautifully written, and the payoff is worth it. It had everyone in my book club messaging each other with, "What is happening?!"
Grab a copy if you're looking for a short but sizzling fantasy novel that explores themes of illusion and reality, identity, and time.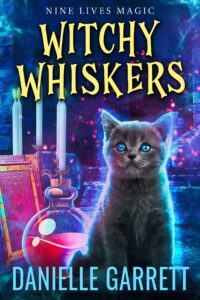 Witchy Whiskers
Danielle Garrett
Fiction, audiobook
"Have you ever wished your cat could talk to you? If so, allow my story to be your cautionary tale."
Cora is a witch with a lot on her mind: she has a shop to run, a snarky familiar to keep in check, and an ex-husband to avoid. Oh, and her new beau might possibly be a murder.
I admit the cover art doesn't scream "quality material," but Witchy Whiskers surprised me. The magic system is unique, the main character intelligent, and Selene the cat is the poster child for having no filter between your brain and mouth. It won't win a Pulitzer, but who cares? It's fun!
Love a cozy mystery or witchy tale? This one may be…purrfect.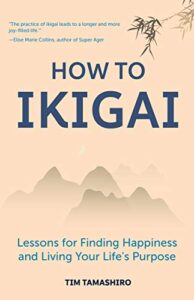 How to Ikigai: Lessons for Finding Happiness and Living Your Life's Purpose
Tim Tamashiro
Non-fiction, audiobook, DNF
What do you love? What are you good at? What do you think the world needs? What can the world reward you for?
A guidebook to finding your life's purpose using the ancient Japanese method first developed on the tiny island of Okinawa.
I do this to myself every time. I pick up a book with the expectation that this will be the time the world's mysteries are revealed, this is the magical key I need to unlock the knowledge of what brings me professional fulfillment. I should know better than to think that a five-hour book available for free on Audible would be such a solution.
DNF'd because even though I liked the concept of the four questions Tamashiro asks, it was taking too long to get any practical info. Life is too short to read books I don't love.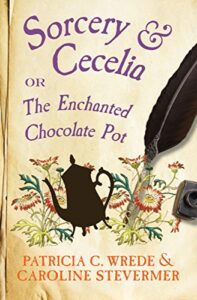 Sorcery & Cecelia; Or, The Enchanted Chocolate Pot
Patricia C. Wrede and Caroline Stevermer
Fiction, audiobook
"In short, if we wish to see anything sensible done about the situation, we will clearly have to do it ourselves."
Cousins Cecelia and Kate thought being apart would be the hardest part of the Season. But Kate has a hole in her nicest dress after an attack from a chocolate pot-wielding wizard, and Cecy keeps sneaking up on the country's worst spy. Can our fearless heroines solve the mystery and save the day before it's too late?
Normally I'm not a fan of epistolary novels since the action feels too distant (lookin' at you, Dracula), but Wrede and Stevermer's book had me from the beginning — partly because it began as actual in-character letters the two authors wrote to each other over several months. The story skirts the line between predictable and surprising, and I'm always going to be a sucker for a gaslight fantasy starring two smart, brave heroines.
Find a copy if you like all things Victorian lady shenanigans (it's a series!).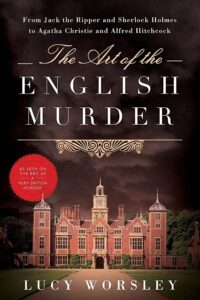 The Art of the English Murder: From Jack the Ripper and Sherlock Holmes to Agatha Christie and Alfred Hitchcock
Lucy Worsley
Non-fiction, audiobook
"This pleasure taken in violence is timeless; it just takes different forms and emphases depending on the technologies and economy of an age. In the nineteenth century, the rise of literacy and the fall of the price of print allowed a love of blood to flourish in new ways. But it was always there – and still is today."
Any mystery reader worth their salt knows about characters like Sherlock Holmes and authors like Agatha Christie, but Law and Order isn't the only media that's used stories "ripped from the headlines." Whether you believe that Victorians were obsessed with the subject because they were repressed, or that focusing on such topics is tacky, it's hard to disagree that mayhem and murder have been big business for centuries…and unfortunately, business is good.
Worsley's book is a lovely combination of true crime, biography, and history. I learned a lot about the genre, from its amateur sleuth beginnings and gumshoe detective core all the way up to the more modern tales. It's fascinating to see the effect of changing culture and morals on what readers want and authors write.
Read if you enjoy history, literature, and/or murder most foul — and give a copy to any numpty who asks angrily, "Why is everyone suddenly into murder these days?"
 Photo by Thomas Park on Unsplash