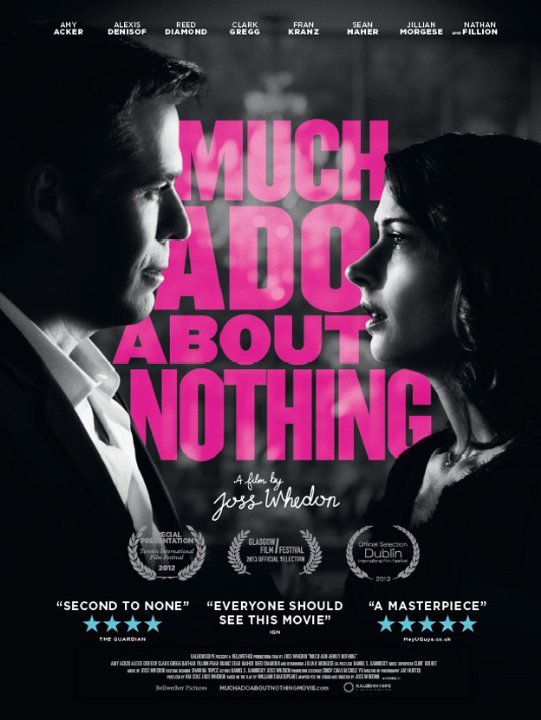 Howdy folks! This review originally appeared over at Playmaker Magazine, but I wanted to post it here in honor of the film's release on DVD and Blu-ray last October. I got a copy for Christmas and loved it just as much as I did when I posted this review back in 2013. Watch it!
I do love nothing in the world so well as a Shakespeare adaptation — especially of Much Ado About Nothing, and even more especially when it's the brainchild of Joss Whedon. Although it lacks some of the polish of other adaptations, the film is wonderfully made and well worth the ticket price.
For those who haven't read the original, Much Ado About Nothing centers around two couples: Beatrice (Amy Acker) and Benedick (Alexis Denisof) and Hero (Jillian Morgese) and Claudio (Fran Kranz). It is the relationship between Hero and Claudio — and Claudio's accusation of Hero's unfaithfulness — that provides most of the drama, but it's Beatrice and Benedick who provide the heart. They are engaged in "a merry war," with many exchanges of barbs and sarcasm; it's only through trickery that the two are finally convinced of their true feelings for each other.
The story behind Whedon's modern adaptation is intriguing: he and his wife Kai host Shakespeare reading events at their Santa Monica home, and turning this informal event into a film has been Whedon's passion for many years.
Much Ado adapts to a modern setting fairly smoothly, mostly because Shakespeare's themes — gender, cheating, lying, mistaken identity and the masks we all wear — are timeless. The only aspect that doesn't translate very well is Claudio's accusation that Hero is not a virgin, and has been deceiving him about it.
Virginity is still important in many societies, but Claudio's anger and everyone's shock at the accusation feels out of place in Whedon's modern setting — especially considering how the film makes it perfectly clear that Beatrice and Benedick have been involved physically before, and no one seems to be freaking out about that.
I must admit that I was worried about the choice of Alexis Denisof ("How I Met Your Mother") as Benedick. The part calls for a certain amount of silliness, but requires seriousness as well, and I wasn't sure Denisof could carry it off. But although he lacks some of the interpretive skill of other Benedicks — such as Kenneth Branagh in his 1993 version — I think he does well. Likewise with Amy Acker ("Dollhouse"), who brings a new layer of humor and realism to Beatrice.
The supporting roles are just as well cast, with standouts Sean Maher ("Firefly") and Nathan Fillion ("Castle") as the evil Don John and the malaprop-spewing Dogberry.
Grade: A-
I loved seeing Shakespeare's play in a modern setting, and enjoyed seeing Whedon's stamp on the storytelling. I was also gratified to note that the theater was fairly full.
But of course the trouble with adaptations is that someone else has generally done them first, and often done them better. The cast is great, but they're simply not trained Shakespearean actors, and so the delivery and interpretation sometimes suffers.
However, do not let this one small critique color your perception of the film. Whedon's Much Ado About Nothing is beautifully done, smartly acted, and incredibly fun to watch. Get ready to be horribly in love with it.