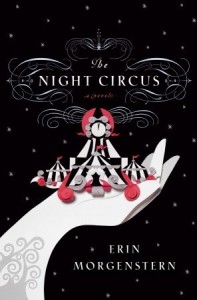 Le Cirque du Rêves arrives without warning, its black and white tents blowing in the breeze. The sign on the gate reads, "Opens at nightfall, closes at dawn." Visitors to this circus are treated to sights beyond their wildest imaginings: contortionists, illusionists, and impossible feats of engineering.
But behind the scenes there is a battle raging. Two magicians, Celia and Marco, use magic like chess pieces in a deadly game set up by their masters. When the two fall in love, it sets off a chain reaction that leaves their lives, the lives of the other performers, and the circus itself in mortal danger.
Nicely done
I expected this to be a lighter read, but was pleasantly surprised by its depth and beauty; author Erin Morgenstern has created a highly complex world that just begs to be explored. I love her writing style: sophisticated, descriptive, and lush.
While Celia and Marco's story takes center stage, the reader is introduced to many other characters whose stories intertwine. The circus itself is a character — a living, breathing thing.
That's what I love most about this novel, actually. The circus becomes a home to many, a place where magic is real, the impossible happens right in front of you, and where dreams come true.
If you like novels with mystery, romance, and magic, read The Night Circus — you won't be disappointed.