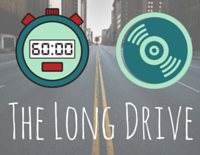 It's been a travel-heavy few months. Thank goodness for audiobooks! They haven't all been great, but that's the risk you take.
The Kingdom
(By Clive Cussler with Grant Blackwood, read by Scott Brick)

The adventures of Sam and Remi Fargo continue in Nepal, where the couple is racing to discover the location of a sacred artifact ahead of sociopath billionaire Charlie King. Cussler's novels are just so much fun, and narrator Scott Brick is phenomenal. May these books never end! 5/5 stars
All That Remains and Cruel and Unusual
(By Patricia Cornwell, read by Kate Burton)

All That Remains centers around a serial killer, Cruel and Unusual around a serious case of mistaken identity. I remember enjoying Cornwell's novels in high school, and was surprised to find myself disappointed with both books. Characters were flat or downright annoying, and Cruel and Unusual in particular felt rushed and incomplete. 2/5 stars
What audiobooks are you obsessed with right now? I'd love to get some recommendations!