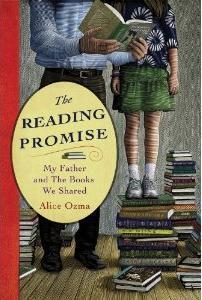 When Alice Ozma was in elementary school, she and her father—a school librarian—made a pact to read aloud together every night. This pact (known as "The Streak") lasts through illnesses, rehearsals, traffic jams, and dates, and only ends when Alice leaves for college — an insane 3,218 days later.
The Reading Promise: My Father and the Books We Shared is about books, but it's also about the relationship between fathers and daughters, single parenthood, and the importance of literature in the lives of children and adults.
A beautiful read
I came across this book while visiting the new library in my childhood hometown last year, and finally got a copy from my local library a couple weeks ago. I wish I'd picked it up sooner.
Alice's father, James, spent his career as an elementary school librarian, and experiences firsthand the failing public school and library system. He recognizes the power of reading, and to Alice it's a normal part of life. As she says in the beginning of The Reading Promise:
Why not read? Why not always read?
One of the things I enjoyed most about this book was how James and Alice's reading tended to mirror what was happening in their lives: when Alice's mother moves out, they read books with single dads and growing girls; and as Alice gets older the subjects get bigger and deeper.
Seeing myself
It's easy to forget what kind of impact reading has had on me. It's just always been something I've done, so much so that I'm often taken by surprise when I mention what I think is a well-known book and the people I'm with say, "Never heard of it."
While there was never "The Streak" in my childhood home, there was a lot of reading. My mother is a huge bibliophile, and is fond of saying that I was a rotten little brat until I learned how to read. Learning this skill enabled me to learn and travel and experience new things, which was apparently all my brain needed to chill out a little.
What would our lives be like without books, and without people with whom to share them? Why do schools and governments cut funding to libraries despite the evidence that reading is crucial to developing imagination and creativity?
Would there be music, laughter, and imagination without books and stories? Would there be any life at all?