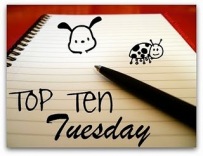 (Top Ten Tuesday is a weekly meme brought to you by The Broke and the Bookish. Want to make your own list? Clicking the image will take you to this week's post. Happy listing!)
This week is the one year anniversary of The Broke and the Bookish, which of course is cause for a special list. Without further ado, here are the top reasons I love being a book blogger!
1. Cheap travel – I'm less than a year into my first grown-up job, so money is pretty tight. But books remove the fetters of penury; if I want to go to Italy, all I have to do is pick up my copy of Under the Tuscan Sun. 1920s Alabama? Fried Green Tomatoes at the Whistle Stop Cafe. Explore a mostly-abandoned house, solve mysteries, and enjoy the miracles of growing things? The Secret Garden it is! No matter where (or when) I want to go, there's always a book that can take me there.
2. Meet new people – I live in a small town where most of the people my age already have kids, or are older than me by at least 35 years — opportunities for socialization are slim. Thanks to the magic of the Internet, though, I can "meet" as many book bloggers as I want! And not only can I find people who like the same kinds of books I do, I can also find bloggers who talk about books I'd never thought I could enjoy (Picture the Dead, anyone?).
3. Expand my TBR list – Not just down (adding more), but out as well. In meeting all these new people, I am exposed to new genres, new books, and new ideas that I have never before considered. My TBR list isn't nearly as insane as other people's, but it's a lot healthier than it was a year ago. I love expanding my knowledge base and learning new things, and meeting new people helps me do that.
4. Create goals when I feel goal-less – After almost 17 years of going to school and working on papers, studying for tests, and preparing for presentations, living in the real world is pretty…dull. You do essentially the same thing all day, and there's no more real goal (unless you count "make enough money so you don't starve"). There's not a whole lot of change. Blogging gives me a chance to take on things like the Gothic Reading Challenge, and participate in fun memes like this one. Blogging helps me set goals for myself, which makes me feel like I'm accomplishing something other than working for the next 40 years.
What are some of your favorite things about blogging? If you're not a blogger, what are your favorite things about being a bookworm?