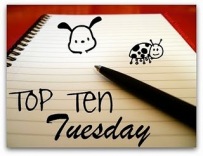 (Top Ten Tuesday is a weekly meme brought to you by The Broke and the Bookish. Want to make your own list? Clicking the image will take you to this week's post. Happy listing!)
Bookworms are persnickety people. We prefer paperback or hardback, we adore or abhor dog-earing pages, and we have crazy lending policies. Everyone thinks differently, but here are my bookish pet peeves.
1. People who say they don't like to read – To me this is like saying, "Eh, I don't really like breathing." What do you do? Don't you feel that something is missing? All humans need stories — how do you satisfy that need, if not through reading?
2. People who make fun of people who like to read – Bullies in general are awful, but making fun of someone for enjoying reading is just as bad as my disliking people who don't read.
3. Books with unhappy endings – Technically this means "Books with endings I didn't like," but you get the gist. I hate unhappy endings, especially when the love interests don't get together. Annoying.
4. People who mistreat their books – Throwing them around, setting drinks on them, getting stains on the pages, cramming them into the bottom of a backpack. I hate seeing a mistreated book.
5. People who mistreat my books – Pretty much nothing angers me more than someone mistreating a book I've loaned them. I think it shows a remarkable lack of respect, not only for my possessions, but of me as well.
What are your biggest bookish pet peeves?